Additional information
Fully connected speaker with Alexa integration and voice control
The future is here with Amazon Alexa and the Aud Click smart speaker from iLuv. With just the press of a button, you can use voice control to ask Alexa to read the news for you, play your favourite music, control your smart home's connected devices and much more besides. Stop doing and start talking with Alexa and iLuv.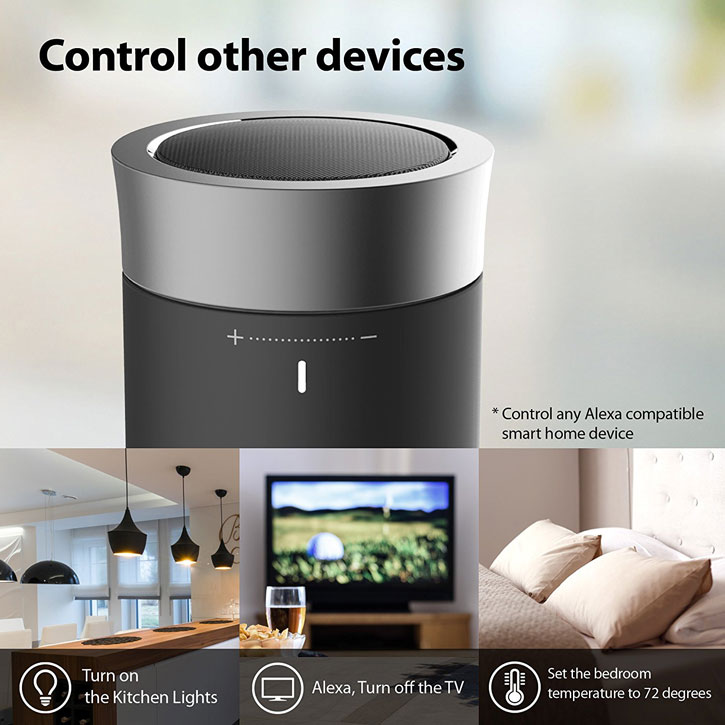 Supports Bluetooth and Wi-Fi connection for smart home
By connecting your smartphone or tablet to Aud Click via Wi-Fi, you can control your IoT (Internet of Things) devices such as lights, smart power sources and more. However, if a Wi-Fi connection is not available, you can still connect Aud Click to your device via Bluetooth, enabling you to play music playlists, podcasts and other media without touching your phone.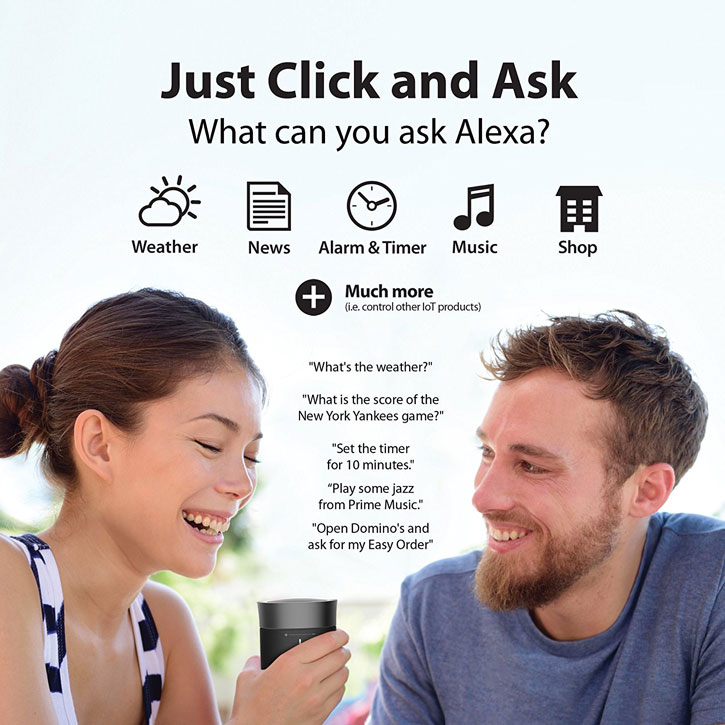 Compact, lightweight build for maximum portability
Take the Aud Click anywhere you go - on holiday, on a business trip, to a party or friend's house or just between rooms in your own home or office. A lightweight, compact chassis means this speaker will be your constant travelling companion - take your music to the next level anywhere you go.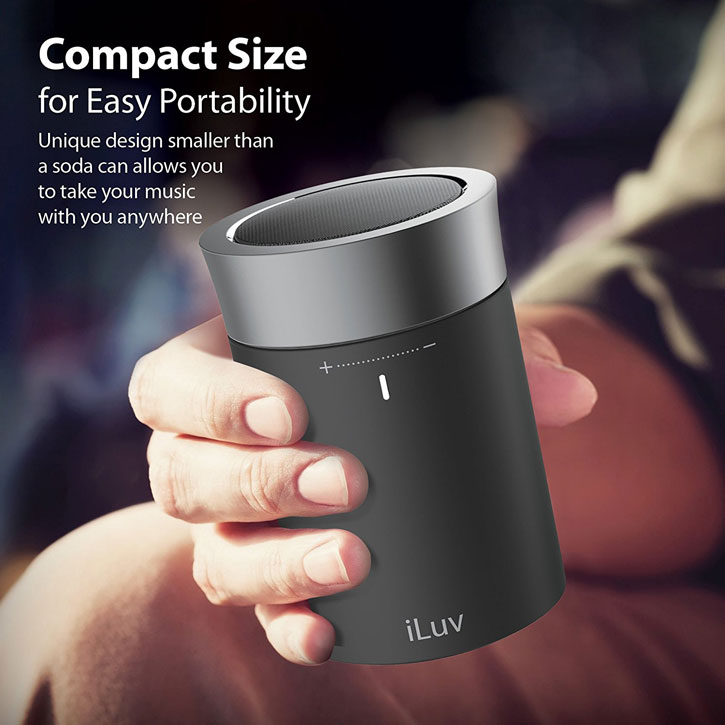 Superior 360-degree audio fills the room with music
iLuv's unique design for the Aud Click utilises a unique open-ended design to project sound far and wide in a 360-degree radius. This results in an absolutely massive sound that belies the speaker's small size, so any music - from rock to hip-hop to classical - will be enhanced by the Aud Click's powerful bass, crisp trebles and punchy mids.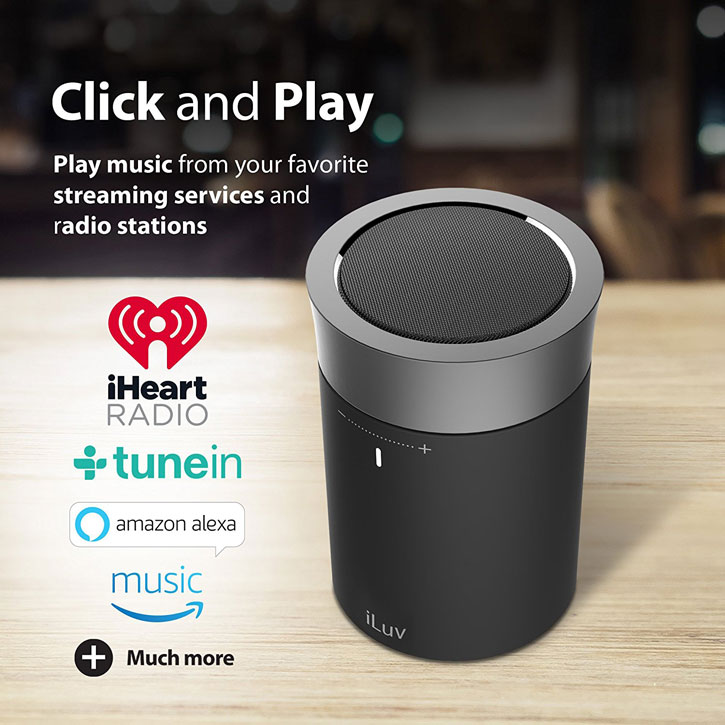 Dedicated Aud Click app for iOS and Android platforms
Unlock the full potential of your Aud Click by downloading the free companion app, available either from the Google Play Store or the iOS App Store. This intuitive, straightforward app allows you to access the Aud Click's functions and change settings, so your speaker is always working exactly to your specifications.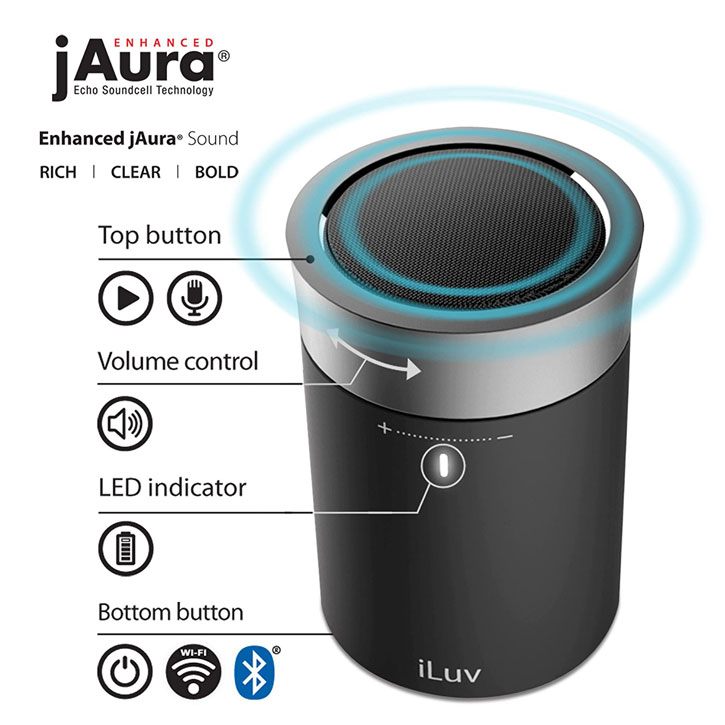 Connect multiple Aud Click speakers for a multi-room setup
Fill your home with music thanks to the Aud Click's multi-room capabilities. Simply connect multiple Aud Click speakers to your Wi-Fi, and use the dedicated app to control playback from room to room. You can even change up the ambience and set different tracks to play in different rooms.
Rechargeable Li-ion battery gives up to three hours of continuous use
With the Aud Click's long-lasting rechargeable battery, you can keep the tunes flowing for up to three hours. When the speaker does need to be recharged, simply connect the included charging cable to a power source and your Aud Click will be ready again in no time.