Additional information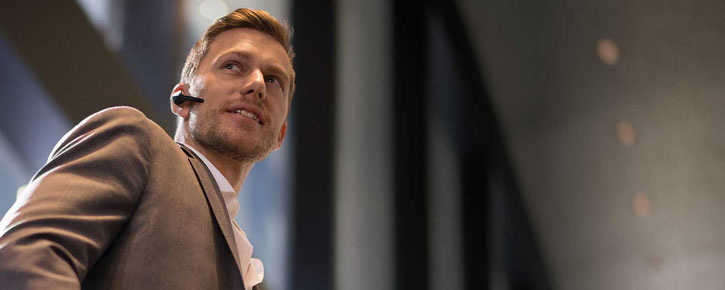 Voyager Edge Bluetooth Headset
Introducing Plantronics Voyager Edge, part of the Voyager family to deliver unsurpassed audio clarity and all-day comfort. Smart Sensor technology reacts when you put the headset on, letting you quickly take a call without a click. If you're already wearing it, Voyager Edge announces who's calling and waits for you to say "Answer" or "Ignore." Simply tap the voice command button and ask to check battery level, connection status, and more. With technology this nimble, Voyager Edge is a truly intelligent Bluetooth® headset.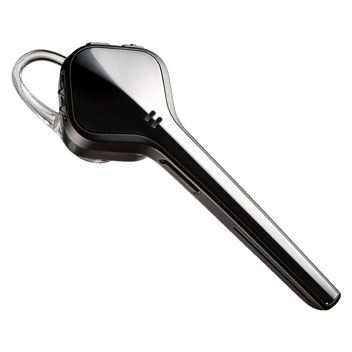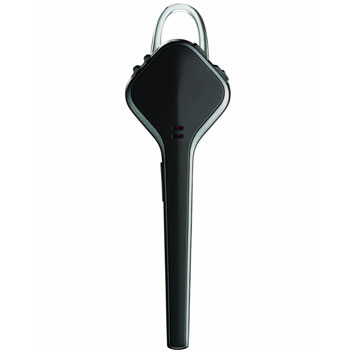 Smart senor technology
With it's internal sensors, the Voyager Edge has the ability to sense when it is being put on or taken off, opening up a range of features. When putting on the Voyager Edge, it will automatically answer a call, transfer a call from your phone to the headset and even resume streaming audio, ensuring you'll never miss a word. Alternatively removing the headset will transfer an active call to your phone, pause any audio streams and even lock a call to stop accidentally cancelling a call.
Caller Announce & Voice Commands
Working in-conjunction with the smart sensor technology, the Voyager Edge syncs your contacts, in order to announce incoming caller's name so you know who's calling without looking at your phone.
Furthermore the voice commands allow you to say "answer" to accept the call or "ignore" to decline, while tapping the voice button will provide you with a battery level, connection status, mute / unmute the mic during calls and more.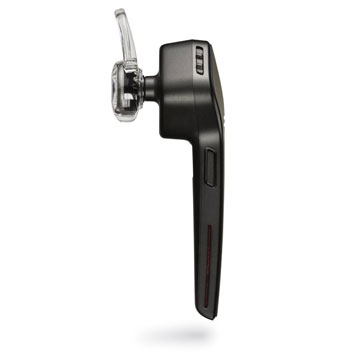 HD voice with noice cancellation
Featuring wideband audio to improve call clarity, the Voyager Edge Bluetooth Headset is completely compatible with smartphones that feature HD Voice, while three microphones optimize your voice and minimise noise caused by wind, movement, and background sounds. So you can sound professional whilst on the move or sat at home.
Audio streaming mode
Not only can the Voyager Edge be used for hands free calling but also streaming audio, driving directions and podcasts from your smartphone or tablet. When receiving an incoming call, the audio stream will automatically pause, while at the end of the call, audio will automatically resume.
Splash proof
The Voyager Edge headphones have had a P2i coating applied to them, meaning they are sweat and moisture proof. With this nano-technology coating applied, you no longer have to worry about using your Bluetooth headset in the rain or any liquid spilling on them.
iOS and Android app
Free to download from the App Store or Play Store, the Plantronics Hub app will open up a whole new world of features including being able to locate your lost headset, customise settings, check the battery level and more.
Technical Specifications:
Talk time: Up to 6 hours
Range: Up to 10m
Weight: 9 grams
Noise reduction: triple-mic wind + noise cancelling
Multipoint technology: Pair two phones and answer calls from either one
Status alerts (in English): Alerts for power on/off, phone connected, battery low, recharge battery, volume minimum/maximum
Bluetooth version: Bluetooth v4.0 with A2DP for music and audio streaming
Charge connector: Micro USB
Battery type: Rechargeable non-replaceable lithium ion polymer
Charge time (maximum): 90 minutes for full charge
Service and support: 2-year limited warranty
Average rating 4,8 given by 4 customers | Write a review
Irene
Boronia, Victoria Australia
9 November 2016
Excellent
I bought the ear piece specifically for use in the car because the reception through my GPS is unbearable. I am so pleased my friend referred me to this device. It is superb, no problems hearing or being heard. Only slight negative which can be a positive really, is the reception is so good I have to tell people I am talking with to turn off their TVS because the reception is so good. I highly recommend this device.
Translated from English
1 out of 1 found this helpful
Did you find this review helpful?
---
Mick
Blackpool
10 September 2016
iPhone 6s Plus
Planttronics Bluetooth headset
My old headset would only last an hour I ordered the plantronics voyager edge headset because of the features such as voice answer and dial it is so easy to use six hours talk time and a handy charger that the headset fits into and protects as well as charges the headset. Thankyou to mobilefun for great service as usual
Translated from English
1 out of 1 found this helpful
Did you find this review helpful?
---
George DUMITRIU
LONDON
9 August 2016
Very good quality sound
Very good quality sound and quick and stable connection with the smart phone
Translated from English
1 out of 1 found this helpful
Did you find this review helpful?