Most useful customer reviews
Apy
London
Plantronics Backbeat Pro Wireless Noice Cancelling Headphones
24 October 2016
Amazing product
I wanted a headphone which doubles up as a Skype business headset for many hours. This combines both functions to a very high degree. Now my wife wants one as well!
david whidden
fordingbridge, Hampshire
Iphone 6 plus
17 September 2016
Wow first class
Bought for a holiday trip, they are amazing, the sound is fantastic, battery life lasted me 10 days, and connectivity did not drop once, i did a lot of research and was not disappointed.
11 Reviews
|
Write a review
---
Additional information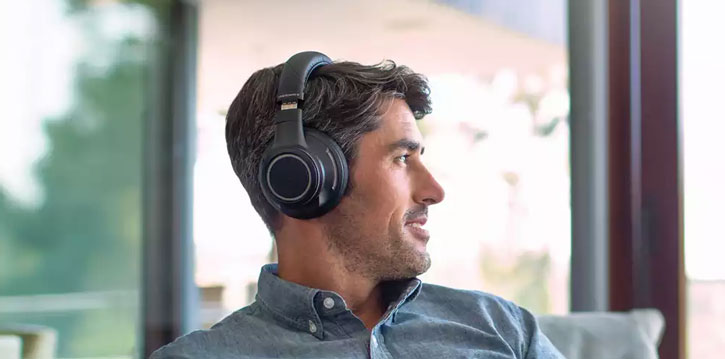 Balanced and detailed sound
To ensure music - your music - is heard in all its intended harmony and depth, the Plantronics BackBeat Pro Headphones provide a richly detailed and balanced sound, no matter which genre you are listening to. With the correct balance of rich bass, natural mids and crisp highs, it means you can enjoy your music exactly as you want it.
To further improve the audio streaming performance, Plantronics have added aptX low latency audio codec to the Pro Headphones, meaning a decrease in the delay of your Bluetooth audio.
Wireless Bluetooth connection with Multi-point allows for greater freedom
The BackBeat Pro Bluetooth Stereo Headphones feature Bluetooth 4.0 wireless technology, to ensure improved connectivity and sound quality, while easily pairing your devices. No need for wires or to sit directly next to your music source, instead you have the freedom to move around up to 100 metres away from your connected Bluetooth device so you can enjoy your music completely wirelessly.
They also feature Multi-point technology, meaning you can connect two Bluetooth devices simultaneously and switch between them, without the need to even remove the headphones.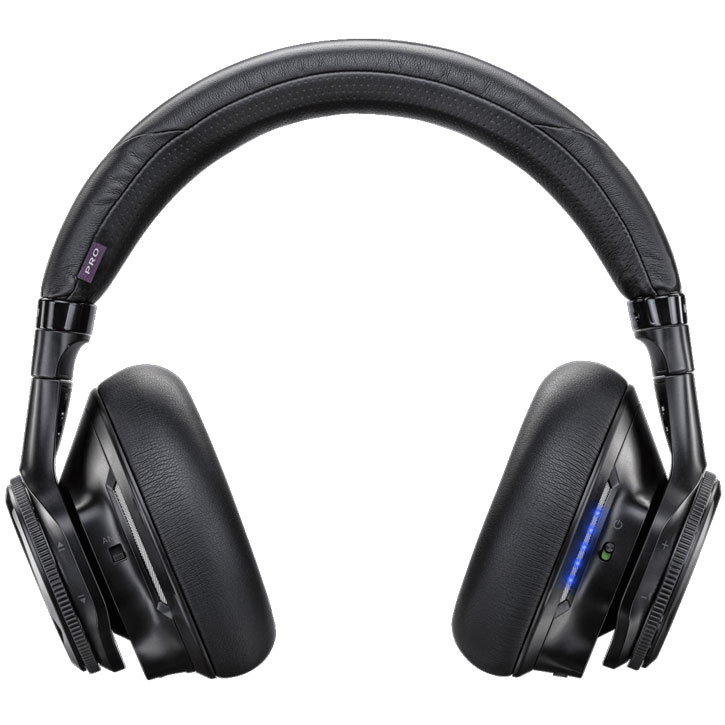 Stream audio for up to 24 hours
You can now listen to those long playlists or movies with the BackBeat Pro headphones. With the ability to stream your audio continuously for up to 24 hours, you'll have no reason to remove your headphones.
Noise cancelling technology
With the ability to turn on and off active noise cancellation (ANC), when turned on to reduce noise, the BackBeat Pro Headphones ensure they do not capture any outside noise and allow for unparalleled clarity. What this essentially means is that you will hear all of what you want to hear and almost nothing of what you don't, making them perfect when commuting in noisy situations or crowds and giving yourself a moment of peace and fulfillment by insulating yourself from surrounding noise.
Ability to hear your surroundings
Featuring Plantronics OpenMic, the BackBeat Pro Headphones allow you to still hear your surroundings, meaning you can still hear if somebody starts to talk to you, all without removing your headphones. The mic level can even be increased / decreased by rotating the wheel on one side, while pressing the mic button again will give you the ability to cancel the OpenMic feature.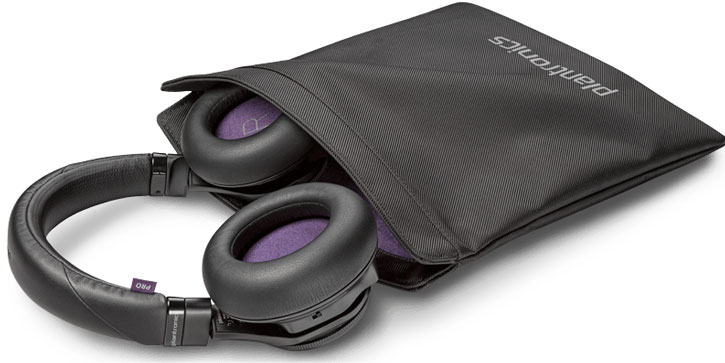 Smart sensor technology for automatic pause/play
An impressive feature of these headphones is they react to when you wear or remove them. Due to the Smart sensor technology, the headphones will automatically pause/play music or accept/make calls when you remove the headphones or put them on. This helps to conserve the battery power.

On-ear control panel for easy navigation and intuitive control of music
The Plantronics BackBeat Pro Wireless headphones have been designed to include on-ear playback functions, which allow you to play / pause your favourite tracks, or answer / end calls. Apple device users can take the controls to the next stage, to activate Siri, advance / go back to tracks as well as adjusting the volume for greater control of your music experience.
Hands-free calling
You can take calls with ease with the BackBeat Pro Bluetooth Headphones from Plantronics. When you have an incoming call, you will receive an announcement. By simply pressing the play/pause, the call will be answered. The two built-in microphone allows you to use the headphones to take calls from your phone completely hands-free. Leave your phone in your pocket or bag, answering your calls directly by simply pressing the call management button on the headset itself. Featuring noise cancellation, your calls will be clear from interference and other audio distractions.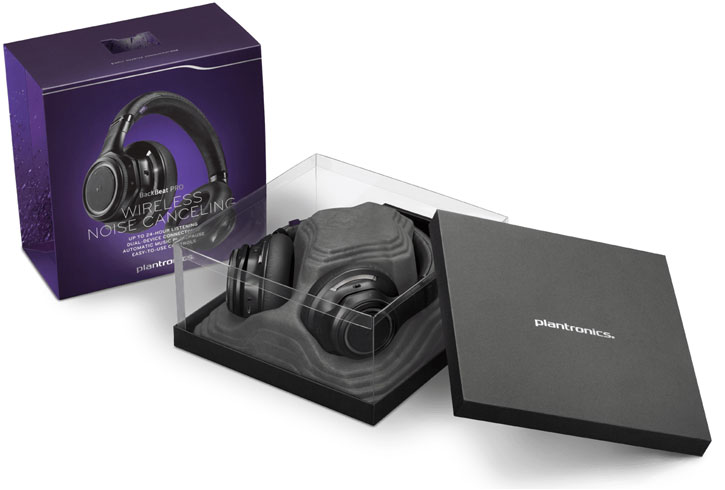 Foam cushioned ear cup design for comfortable listening
The foam cushioned and swiveling ear cups gently rest against your ears to create an acoustic seal, for a pleasurable music listening experience. This allows you to listen to your music, podcasts or audio books in comfort for extended periods of time.
The stylish telescoping headband is padded, providing a comfortable fit and can be easily adjusted to suit all head shapes and sizes.
Status alerts
You can receive battery and connection alerts and choose from 14 different languages.
Fold-flat design for travelling
With it's fold-flat design and included travel bag, the BackBeat Pro headphones are perfect to take with you on your travels.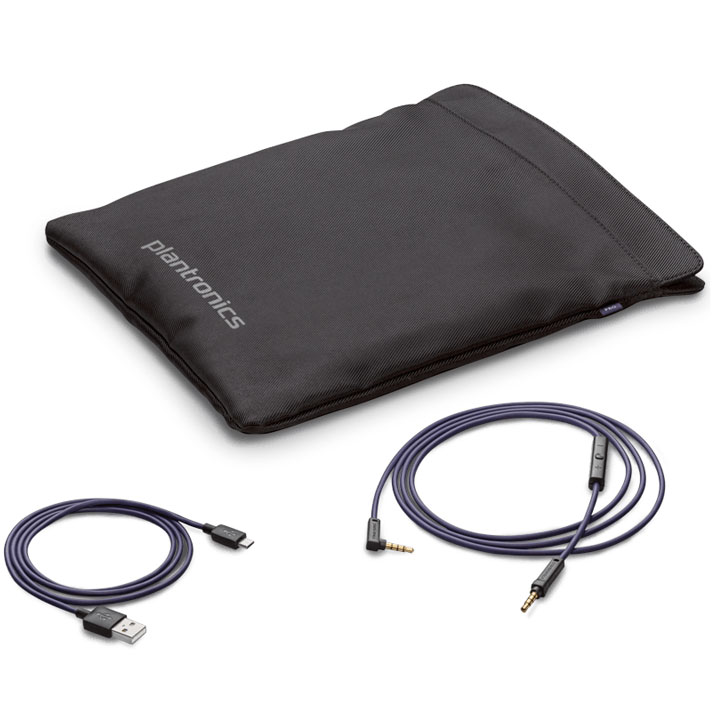 Features and Specifications
Battery
Type: Rechargeable, non replaceable lithium-ion
Charging: Via provided USB Cable
Charge Time: Up to 3 hours
Power: Up to 24 hours wireless streaming, up 21 days stand time, up to 180 days in DeepSleep mode
Connectivity
Bluetooth 4.0
Supported profiles: EDR, AD2P, AVRCP, Hands-free v1.6 for wideband and Headset v1.2
Wireless range: Up to 100 metres
Multi-point: Simultaneously connect two Bluetooth devices
Audio
Noise cancellation: Passive noise blocking, digital signal processing (DSP) and dual microphones
Voice alerts