Most useful customer reviews
Daphne Christodoulou
Cyprus
13 June 2017
Product as per description.
Product as per description.
John Sykes
Kimberley, Nottingham
12 June 2017
Just brilliant
An excellent device, clearly described on Mobile Fun's pages. I've previously shied away from wireless chargers, not particularly liking those that lie flat. Also, I have been dubious about non-OEM equipment. This Samsung charger is perfect for me. It has a lip to hold the phone in place, even with a cover on the phone, and it happily charges my S6 Edge, S7 Edge and S8 Plus ... one at a time, obviously. It's necessary to use a charger that came with your phone - it might have been nice to include one with it, but not a big issue. It doesn't fold flat, as some have observed, so is slightly bulkier when travelling. However, the rigidity the design provides is more important. This is one of the best devices of its type. If you're thinking of getting a wireless charger - get this one.
keith gale
loads
Samsung galaxy S8
5 June 2017
great gadget
this wireless charger really is so easy and convenient to use a must for any one with a wireless chargeable phone would definitely recommend
212 Reviews
|
Write a review
---
Additional information
Fast wireless charging for your Galaxy smartphone
Using the latest Wireless Fast Charge technology, Samsung's Galaxy S8 Plus, S8, S7 Edge, S7 and S6 range smartphones can wirelessly charge up to 1.4x quicker than previous Qi charging methods. Using fast wireless charging technologies, you can recharge your Qi compatible Samsung Galaxy smartphone fully in just two hours.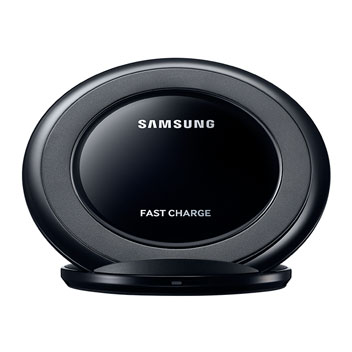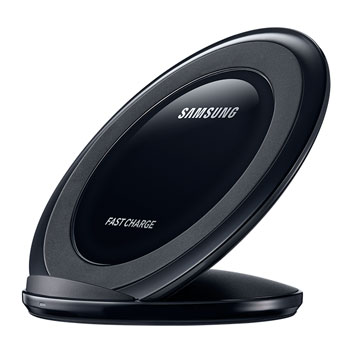 Use and view your phone without interrupting charging
The intuitively designed Qi Wireless Charging Stand from Samsung makes using your phone while charging easier than ever. Positioning your device at a convenient viewing angle, the Fast Charge Stand allows you to navigate through your music, view incoming notifications and see the time without having to re-position your phone and thus interrupt the charging process.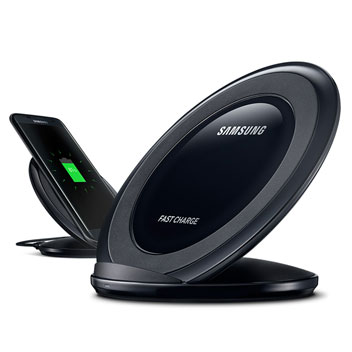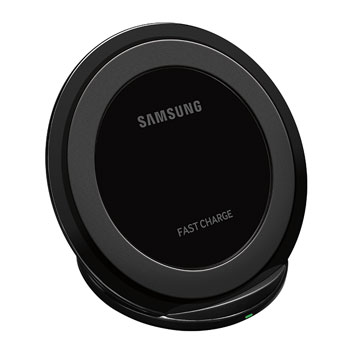 Sleek and ultra slim Samsung design
This Official Galaxy Qi wireless charging stand has been designed to complement the unique product styling of Samsung's new handsets and as such is the perfect home or office charging solution for your phone. Not only does the charger save tangled cables from cluttering your desk space, but the pad actually looks aesthetically pleasing with its smooth contours and clean lines.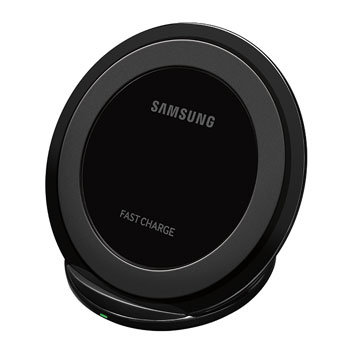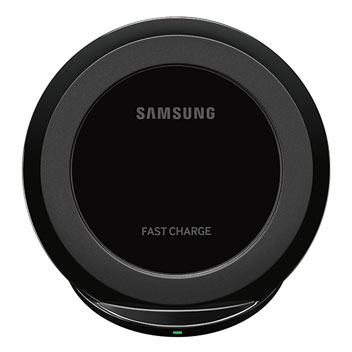 Electromagnetic field for Qi wireless charging
The Samsung Qi Wireless Charging Pad allows your Galaxy S8 Plus, S8, S7 Edge, S7, S6 Edge+, S6 or S6 Edge to charge wirelessly via electromagnetic field and inductive coupling that send an energy charge from the charging pad to your phone. This makes for a beautiful space saving way to charge your phone at your desk, office or at home.
Features over-charging prevention
The Samsung Qi Wireless Charging Stand's automatic shut off feature prevents your smartphone from continuing to charge once the battery is full, providing a smarter, more efficient charging solution over traditional mains chargers.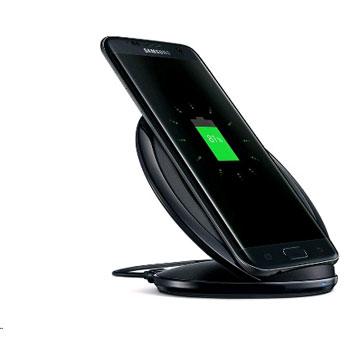 Ambient LED charging status indicator
The Samsung Wireless Charging Stand is a perfect fit with any wireless charging handset. Quick and simple to use, this official wireless charger also features an ambient LED display, which indicates your phone's charging status by glowing blue when charging and glowing green when the battery is full. So in an instant you can know when your phone is fully charged, just by looking at it.
Official Samsung accessory
This is an official Samsung product and as so it is made to the highest product quality and safety standards.
Please Note: The Samsung Wireless Charging Stand does not come with a UK mains plug included. You will need to use the mains plug provided with your phone in order to charge via a mains outlet. If you are using the Galaxy S8 / S8 Plus, please be aware that a Micro USB cable will be required to power the wireless charger, as the S8 uses a USB-C connection.