Most useful customer reviews
29 January 2016
samsung vr gear
Wow had some money from Xmas present and saw a review from America about these and treated myself. Was not disappointed very good. But your battery will drain quickly.
Daniel
bedfordshire
samsung galaxy gear vr
9 February 2016
exciting
This product is value for money. It is one of the cheapest vr headsets available for a mobile device. It's not the best but I feel it is great for first timers in virtual reality. My only issue with this is the picture quality. That doesn't mean however that the picture quality will be poor for you.
3 Reviews
|
Write a review
---
Additional information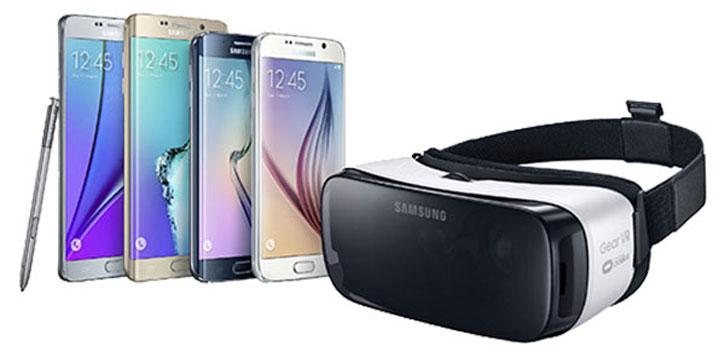 Conceived and designed in partnership with Oculus
The Samsung Gear VR is exclusive accessory based on Oculus Rift's hardware. Gear VR is specifically designed to be a peripheral device that works with your Note 5, S6, S6 Edge and S6 Edge Plus. Your device actually acts as the visual interface of the Gear VR, as you need to put it in front of the goggle-like accessory.
The Samsung Gear VR delivers a completely new way to experience and consume mobile content and is a massive step forward in wearable technology. Oculus are a leader in virtual reality technology and by working with Samsung on the Gear VR, have created an immersive mobile virtual reality experience that the industry has never seen to date.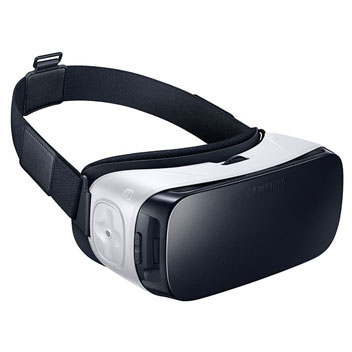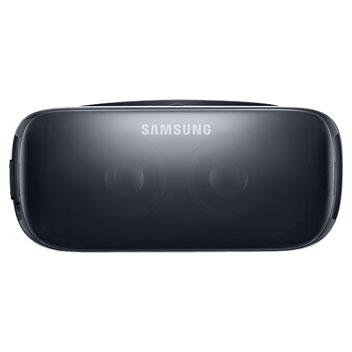 Designed specifically for the Galaxy Note 5, S6, S6 Edge and S6 Edge Plus
The Gear VR works exclusively with the dedicated VR player installed on the Galaxy Note 5, S6, S6 Edge and S6 Edge plus, and is engineered to work perfectly with this software. There is also a host of applications and games in development. There is no lag between moving your head and moving the picture as the latency is excellent indeed at practically zero, or near enough so the difference is virtually imperceptible.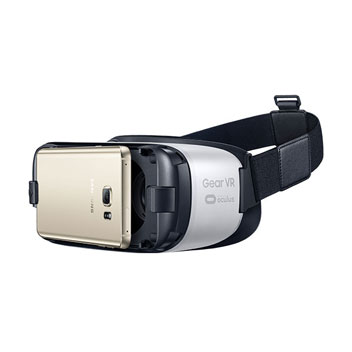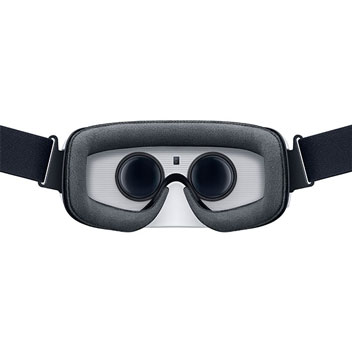 Unrivalled viewing experience
The Samsung Gear VR delivers an unrivalled viewing experience with the Quad HD Super AMOLED display of the Galaxy Note 5, S6 Edge and S6 Edge Plus, providing stunning and engaging visuals at a mobile-leading resolution. With the Gear VR, the effect is the equivalent of sitting in the best seat of a theatre, being on-stage at a performance with full 360 degree 3D video, and being able to enjoy gaming like never before - inside stunning worlds where imagination becomes reality. Samsung's industry leading Super AMOLED display technology and cutting-edge Oculus-driven technologies fuse to create an experience that surprises and delights – all on a mobile device!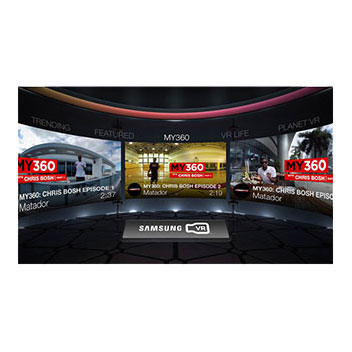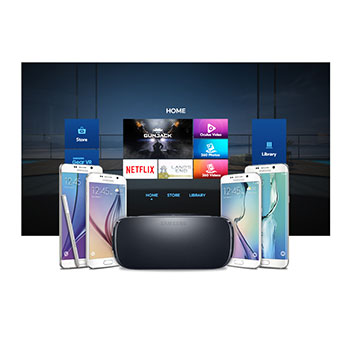 Lightweight and comfortable
Built with soft, flexible cushioning and lightweight materials, Samsung Gear VR is comfortable to wear. As it is wearable technology, this is very important of course. There's no point having cutting edge wearable tech if it's unwearable. It is completely wireless, so it is possible to be fully engaged in virtual worlds without being tethered to a computer. With a robust selection of optimised virtual reality content from a wide range of top-tier creators, owners can enjoy a wide range of film, gaming, 360 degree video and educational/experiential content. Viewing media will never be the same again. You're no longer just a viewer, you're an active participant.
Specifications:
Sensor: Accelerator, Gyrometer, Magnetic, Proximity (mount / unmount detection_
Focal Adjustment: Covers Nearsighted / Farsighted Eyes
Physical User Interface: Touch Pad, Back Button, Volume Key
Connection: Micro USB connection to the Galaxy Note 5, S6, S6 Edge and S6 Edge Plus
Dimensions: (Headset): 202(W) x 116(L) x 93(H) mm
Weight: 317.5g