Most useful customer reviews
Sally Gallagher
Isle of Wight
Charge port-piano black
27 December 2016
Great product
Bought this for my husband for Christmas, as I was fed up with leads lying around, so now we both use it, easy to set up, no wondering where the leads were left now as its all in one handy place
Suzi Taylor
Scarborough
Charge Pit 6 - Port Universal Charging Station
16 May 2016
Great Little Machine!!!! No Wires All Over the Place!!!
This handy little device is fantastic!!! not only does it charge up to six devices at once, it hides all the wires unlike others where they are tidy but still sticking out of the sides!! this one hides them all inside, so not only is it a tidy little thing, you don't lose all your devices if you are charging them here there and everywhere!! and its a place where you can store them when they are not in use, so easy when your rushing out of the door wondering where the heck did you leave your phone/iphone on charge, they are all together!!
Carole Doel
Cambridge
i-phones i-pad
6 May 2016
Smart and Tidy
Have been looking for something to sort out all my plugs and wires for my i-phones, i-pads, kindles, it did seem a bit expensive but it has tidied me up and also can charge more than two items at a time. Really pleased with it
8 Reviews
|
Write a review
---
Additional information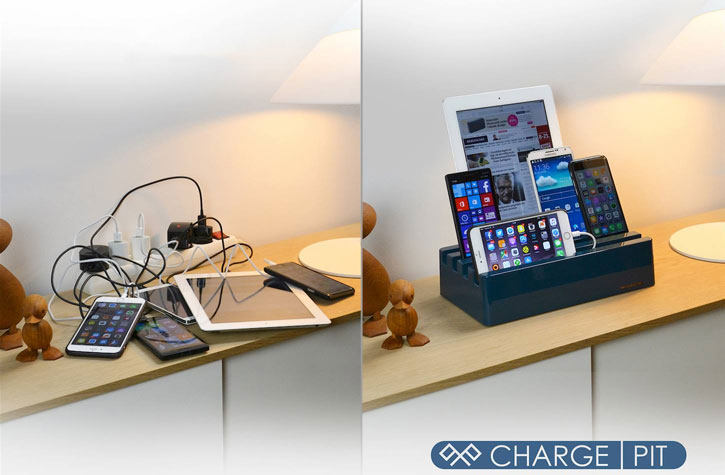 Smart compatibility, auto adapts to all iOS and Android devices
The Charge Pit has built-in technology that allows for wider device compatibility. It auto adapts to charge your iPad, iPhone, Samsung Tab and all iOS and Android devices.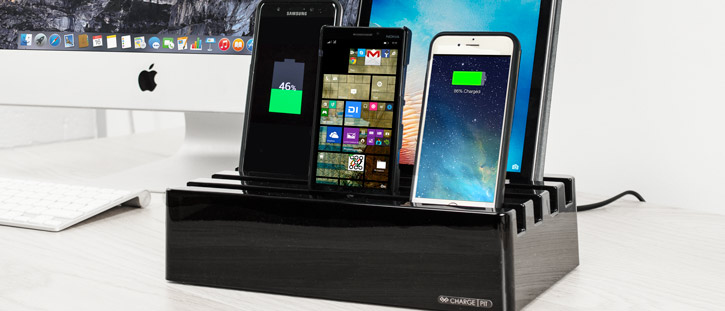 10A high power, fast charge output for your tablet and smartphone
The Charge Pit 6-Port Universal Charging Station features fast charging technology, with a 10A high charging current output making it ideal for charging tablets and smartphones.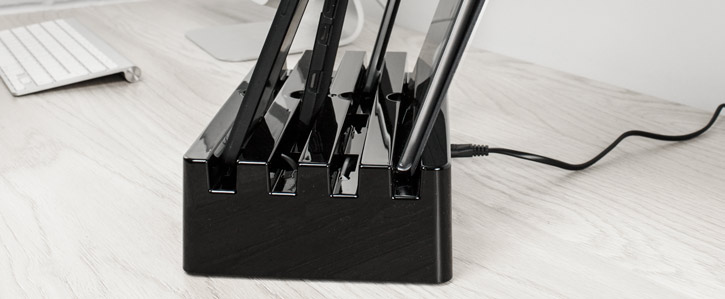 Charge 6 devices simultaneously with just one mains socket
With 6 USB charging ports, the Charge Pit 6-Port Universal Charging Station can charge six devices simultaneously. All of this is powered by one mains power socket in your home or office.

Quickly change your cables
With the Charge Pit you can add your own cables no matter what device you have! Simply lift up the case and connect the wires you need, then place it back down again. Use up to 6 different cables.

Please note: images for demonstration purposes only.
Desk stand - allows you to stand your phone while it charges
Not only does the Charge Pit 6-Port Universal Charging Station keep all of your devices fully charged, it also looks good doing so. The base unit has integrated stands that hold your tablets and smartphones while they're charging.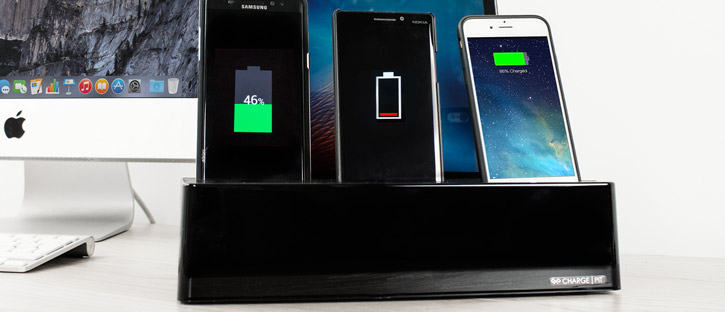 Neat and tidy - avoid tangling cables
If you or your family have multiple electronic devices, you've probably got a mess of tangled wires you have to pick your way through every time you want to charge your phone or tablet. With the Charge Pit 6-Port Universal Charging Station you can forget about the mess that owning multiple cables causes.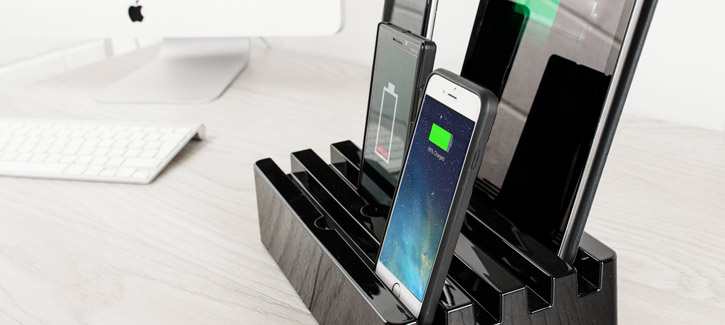 The Charge Pit 6-Port Universal Charging Station lets you charge multiple devices at once from one station, so you can keep all the cables organised. With the included hook and loop fastener strips, you can manage your cables and keep them hidden underneath, so you'll always have a tidy desk or table top.
Technical Specifications:
- USB Charger
- 6 x USB Port
- Input: AC 100V - 240V, 50Hz - 60Hz, 1.5A
- Output: DC 5V, 10A (max. output for 6 USB ports)
- Dimensions: 29cm x 17cm x 8cm
- Weight: 0.8kg
Please Note: No USB cables are included with this product