Most useful customer reviews
Sharon Bottomley
Goole
Charge pit 6/port universal charging station
18 December 2016
Ideal!
Brilliant product no more scruffy wires dangling all over the kids bedrooms anymore! All their devices in a tidy compact area with nobody moanibg someone's nicked their charger ! Gonna get one for the hubby next cos he's messier than the kids! Perfect invention!
Lorraine knight
Kent
Ipad
16 December 2016
Great product, great service
Just received my order for a charge pit 6 charging station, its every thing and more what I expected, so much so three of my friends have ordered one. Excellent service from order to delivery, well packed and on time.
Katie Lowton
Lancashire
Charge Pit 6-Port Universal Charging Station - Arctic White
8 February 2016
This is just fantastic - every house should have one!
This charging station is really cool and I really think everyone should have one. It is so neat and keeps everything tidy and in order. Basically there is a 6 point USB hub hiding in the base into which you plug your respective charging leads and feed them through a series of discreet slots on the top cover for easy access. I am charging my Samsung Galaxy, iPhone, Sony Xperia and Kindle here all at the same time. It is so good. Also, I mistakenly ordered the black one at first and sent an email the next morning enquiring about changing my order to a white one. Despite me thinking that I was probably too late I received a phone call within the hour from a customer service representative to confirm that a white one was being despatched and all was in order. Customer service, speed of delivery was outstanding and I wouldn't hesitate to recommend this website for new customers and repeat ordering for myself. Overall outstanding service!
14 Reviews
|
Write a review
---
Additional information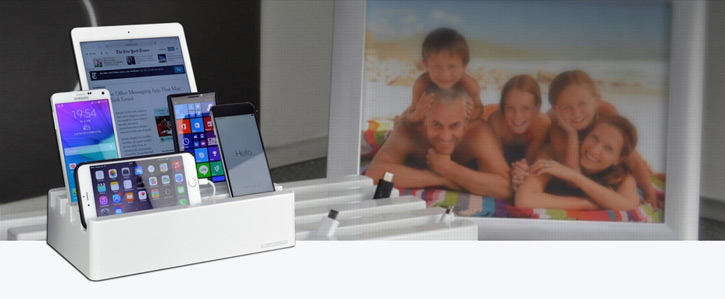 Smart compatibility, auto adapts to all iOS and Android devices
The Charge Pit has built-in technology that allows for wider device compatibility. It auto adapts to charge your iPad, iPhone, Samsung Tab and all iOS and Android devices.
10A high power, fast charge output for your tablet and smartphone
The Charge Pit 6-Port Universal Charging Station features fast charging technology, with a 10A high charging current output making it ideal for charging tablets and smartphones.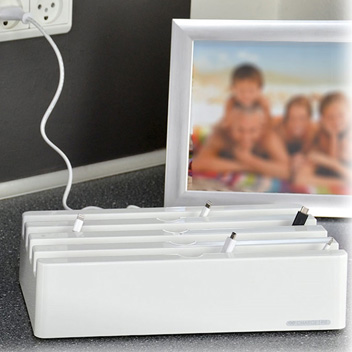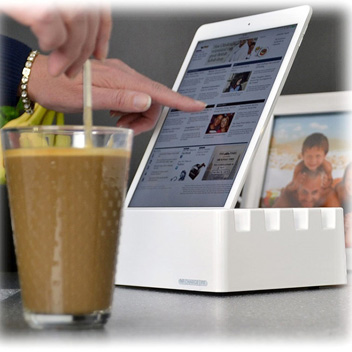 Charge 6 devices simultaneously with just one mains socket
With 6 USB charging ports, the Charge Pit 6-Port Universal Charging Station can charge six devices simultaneously. All of this is powered by one mains power socket in your home or office.
Quickly change your cables
With the Charge Pit you can add your own cables no matter what device you have! Simply lift up the case and connect the wires you need, then place it back down again. Use up to 6 different cables.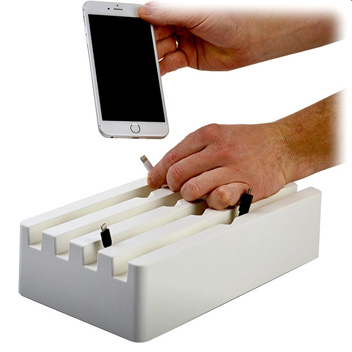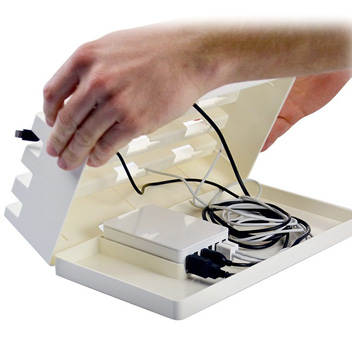 Desk stand - allows you to stand your phone while it charges
Not only does the Charge Pit 6-Port Universal Charging Station keep all of your devices fully charged, it also looks good doing so. The base unit has integrated stands that hold your tablets and smartphones while they're charging.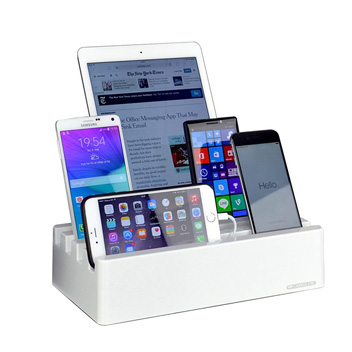 Neat and tidy - avoid tangling cables
If you or your family have multiple electronic devices, you've probably got a mess of tangled wires you have to pick your way through every time you want to charge your phone or tablet. With the Charge Pit 6-Port Universal Charging Station you can forget about the mess that owning multiple cables causes.
The Charge Pit 6-Port Universal Charging Station lets you charge multiple devices at once from one station, so you can keep all the cables organised. With the included hook and loop fastener strips, you can manage your cables and keep them hidden underneath, so you'll always have a tidy desk or table top.
Technical Specifications:
- USB Charger
- 6 x USB Port
- Input: AC 100V - 240V, 50Hz - 60Hz, 1.5A
- Output: DC 5V, 10A (max. output for 6 USB ports)
- Dimensions: 29cm x 17cm x 8cm
- Weight: 0.8kg
Please Note: No USB cables are included with this product