Most useful customer reviews
Ian Pink
Bristol
LG Rolly Rollable Portable Keyboard KBB-700
1 February 2017
Absolutely brilliant
Wondered if this keyboard would help speed up my emailing on my iPad - it has totally revolutionised my whole iPad experience. I use it for surfing the internet and everything that needs typing. Recommend it to everyone. I love it.
Angus Macaulay
Dundee
LG Roll Bluetooth keyboard
21 January 2017
use this one keyboard on 2 devices
The keyboard rolls or folds up into a square that you can put in your pocket. Metal casing so quite strong. Three rows of letters plus space bar row. Top row doubles as number row with Fn key. More expensive LG Rolly 2 has a separate row of number keys but is significantly more expensive. Suitable for most typing jobs apart from long documents
John B.
Birmingham
Sony Xpedia X
19 January 2017
Useful addition to my phone
One of the problems with technology today is that there is so much of it, and we are spoilt for choice. I have a desktop PC, a laptop, and a smart phone, so I find it difficult to justify buying a tablet. Most of the time I cope, but I do find it awkward to edit documents on my phone, the keypad takes up too much of the screen. This portable keyboard is a perfect solution to this problem. It's light enough to carry easily, and when it's rolled up it's easy to slip into a pocket or bag. Opened up, it's not that much smaller than the keyboard on my laptop, so it's easy enough to use. The stand positions the phone neatly, the only problem being that it has to be taken out of the case to fit in. Since there are only four rows of keys, numbers and special characters need two or more keys to access, but everything is reasonably intuitive, so once you are used to it, it's not a problem. And just in case you are wondering, yes, I did use the keyboard to write this review.
18 Reviews
|
Write a review
---
Additional information
Incredibly portable folding keyboard for smartphones and tablets
Unlike other portable keyboards which roll lengthways, the LG Rolly folds along the four key rows to create an easy-to-carry 'stick' that fits snugly into a pocket, purse or briefcase. When required, simply roll out the keyboard to use with your smartphone or tablet for a more pleasing typing experience compared to a virtual on-screen keyboard.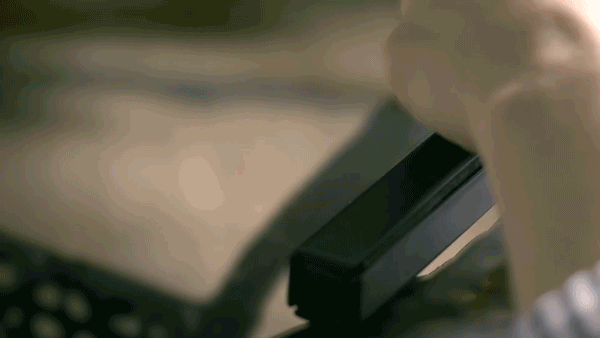 Built-in device stand - supports devices up to 10"
The LG Rolly also features a built-in device stand which consists of two fold-out arms that can support both smartphones and tablets up to 10".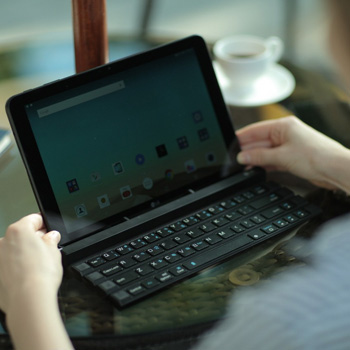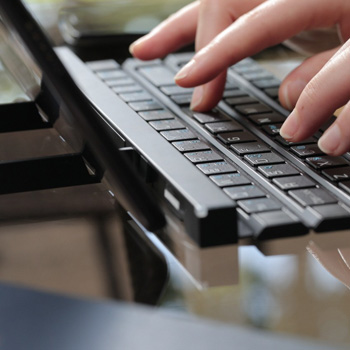 Wireless Bluetooth connectivity
No need for messy tangled wires as the LG Rolly Keyboard features Bluetooth technology to connect completely wirelessly to your smartphone or tablet.
Dual pairing for connecting to 2 devices for easy switching
Pair to a tablet and a smartphone, so you can easily switch between the two to type using the LG Rolly with ease. Receive a text message on your phone while typing an important document on your tablet? Not a problem, simply switch the connected device using the keyboard controls and use your LG Rolly to type your response through your phone. When completed, switch back again to continue your work on your tablet - it really is that simple!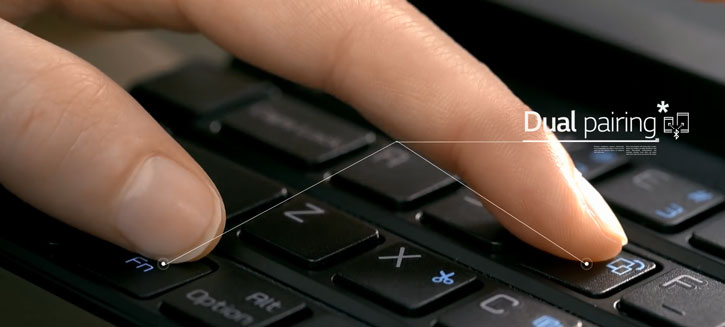 Durable, impact-resistant construction
Made from a sturdy combination of Polycarbonate and ASB plastic the LG Rolly keyboard is impact resistant and durable as well as being light and portable.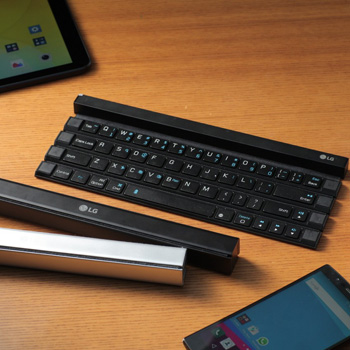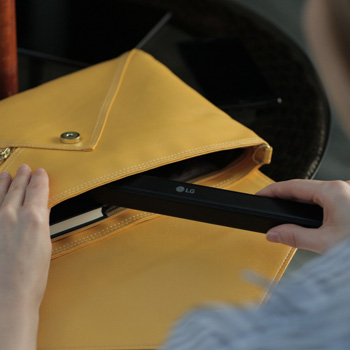 Satisfyingly tactile feedback
Despite its slim dimensions, the LG Rolly offers nearly identical tactile feedback to a 'normal' office keyboard with a key pitch of 17mm (as opposed to 18mm).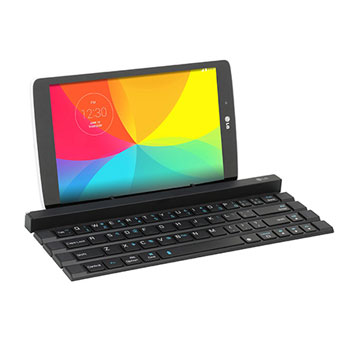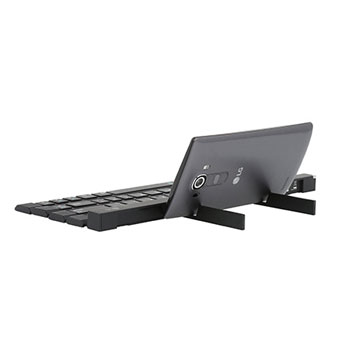 Battery life of up to 3 months
Powered by a single AAA battery the LG Rolly keyboard can last up to three months of average use. Also, with its auto on and off feature, to ensure the keyboard is powered off when idle.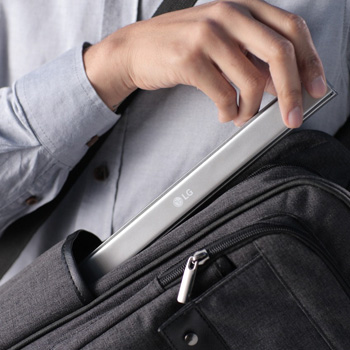 Quick iOS shortcut keys
When you're in full work mode, you don't want to constantly switch between touch and typing. Not to worry - if you're using an iPhone or iPad, this device's Command key can be used to access quick iOS shortcut keys for crucial functions like media playback, copy-and-paste and screen sleep / wake, as well as productivity suite features such as justification and text formatting - so you can do everything from the keyboard.
Compatible with iOS, Android, MacOS and Windows
Compatible with a wide range of Bluetooth compatible devices including iPhone, iPad, Android, MacOS and Windows.
Please note: requires iOS 5 or later, Android 3.2 or later, Mac OS X or later, Windows 7 or later.
Specifications:
Dimensions: 0.35 x 1.02 x 1.02 inches
Wireless: Bluetooth 3.0
Operating Range: 33 ft. (about 10 m)
Standby Time (Connected): up to 4 months*
Standby Time (Disconnected): up to 15 months*
*Battery performance will vary based on network, signal, configuration and usage patterns