Most useful customer reviews
Gary Norcott
East Malling
iPhone 6
3 April 2017
Perfect, simple but perfect.
Simple, solid construction, looks and feels a quality piece of kit. Exactly what I needed.
22 January 2017
Just Right!
I am very happy with my purchase of the Aluminium Sigen S310 Mobile Stand. It's classy looking, neat, and a very clever design, enabling one to charge their device whilst on the stand by means of the hole at the rear for the USB charger. I like the grip the stand has for my phone,taking my phone on and off the stand is effortless, altogether a very user friendly device. I also like the base having rubbery, adhesive feet that ensure the stand remains in situ and doesn't wobble when used. The stand can be moved from place to place, the feet are reusable on another surface. So, thank you, a very happy customer!
Russell Tribley
Chelmsford
Spigen S310 Mobile stand
8 January 2017
Simple yet so effective
Wife more pleased/excited by this small gift than anything else she received for Xmas...!! Sits at desk or side of bed - rather than phone laying flat or propped up against a book or lamp.
43 Reviews
|
Write a review
---
Additional information
Universal design supports any smartphone
The Spigen Mobile Stand is completely gadget-friendly, which means that it doesn't matter which smartphone you have. Devices can be placed comfortably in either a horizontal or vertical position on the TPU mounting pad, to ensure a firm and stable anti-scratch mount. This stylish desk stand sits discreetly to provide a dedicated home for your mobile device and looks great at your desk or on your bedside table.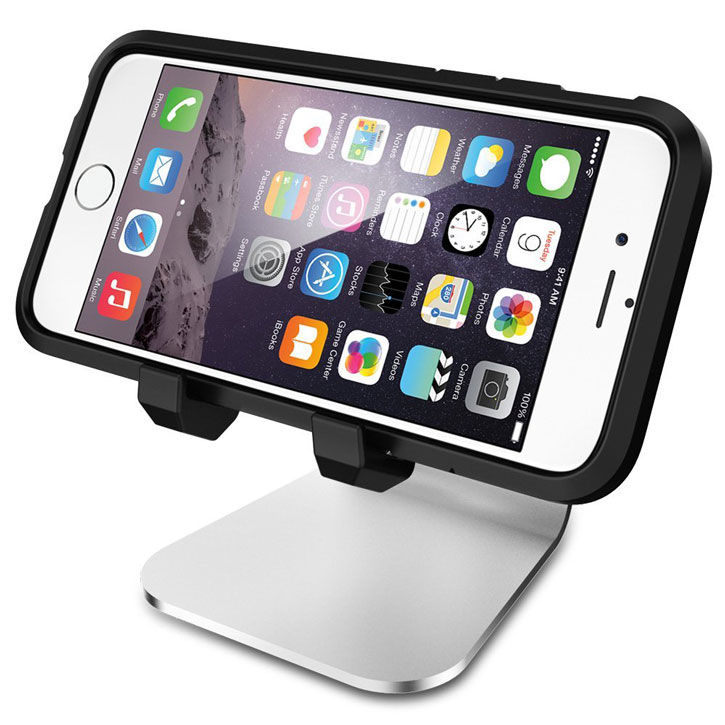 Stylish Aluminium finish for an ultra modern aesthetic
With a style reminiscent of the latest Apple products, this stand is far more stylish than most on the market. It will not look out of place on even the most cutting edge environments, without drawing too much attention to itself.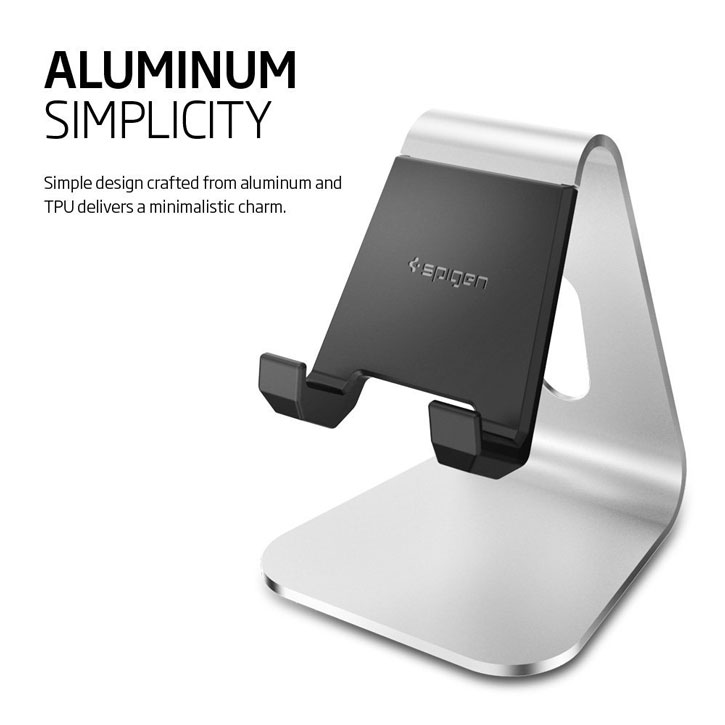 Protects your charging cable
The stand keeps your device nicely elevated and far enough from the surface that your charging cables can bend naturally - with no stress on them at any point. This is a common cause of cables failing, breaking and even being a health and safety risk by causing fires and electrocution hazards.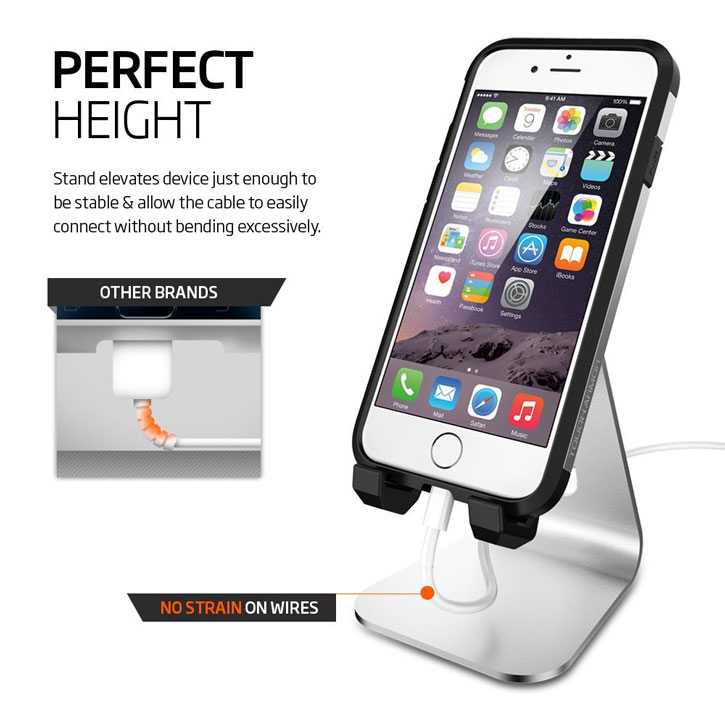 Supports landscape and portrait orientations
The simplistic design allows you to position your device in either a vertical or horizontal position for viewing movies, reading texts or playing games.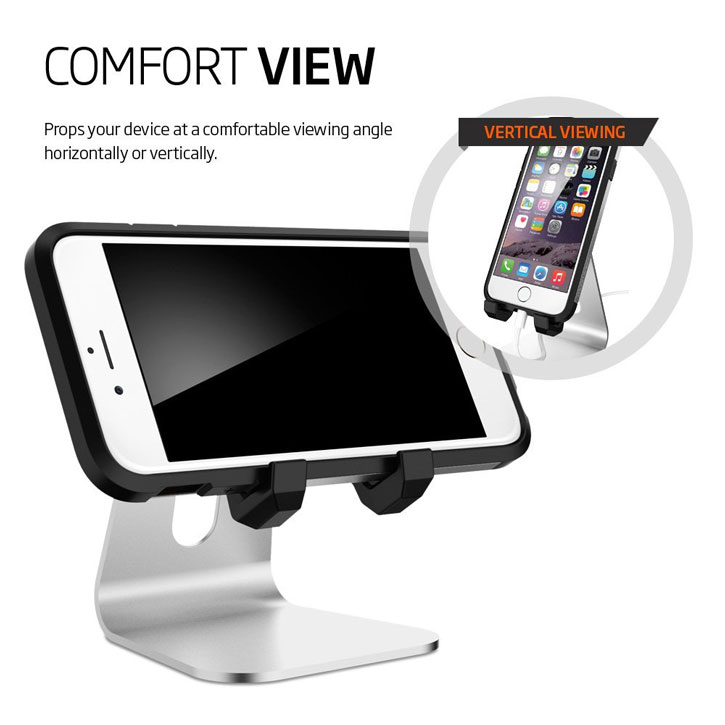 Rubberised TPU mounting pad to prevent scratches
Featuring rubberised TPU, the Spigen Mobile Stand prevents scratches appearing on your devices. No matter how your device is seated or placed, there is no chance of it being damaged from contact with this material.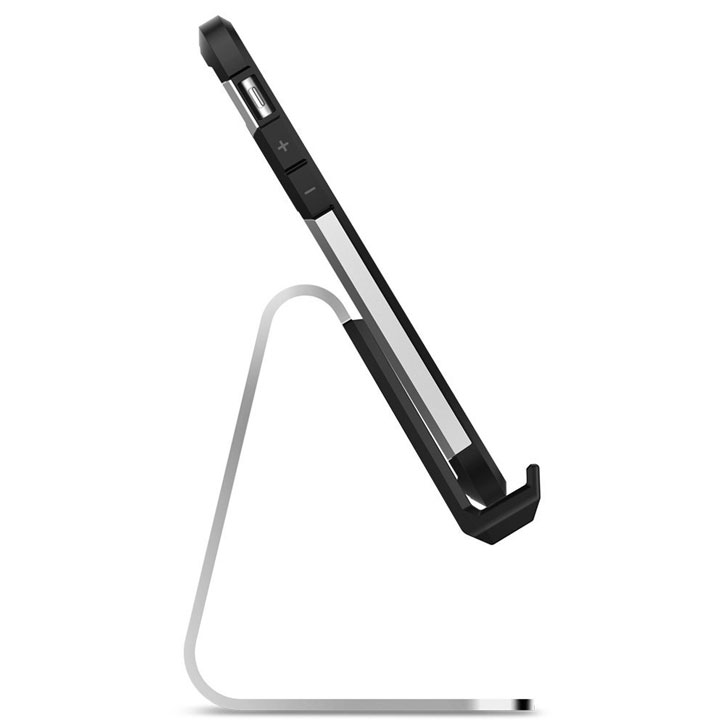 Reusable gel footers for an anti-slip stable grip
The stand features reusable gel stabilisers on the underneath of the mount, meaning your device is unlikely to slide across even smooth surfaces. You would not want your valuable devices to it the floor after all.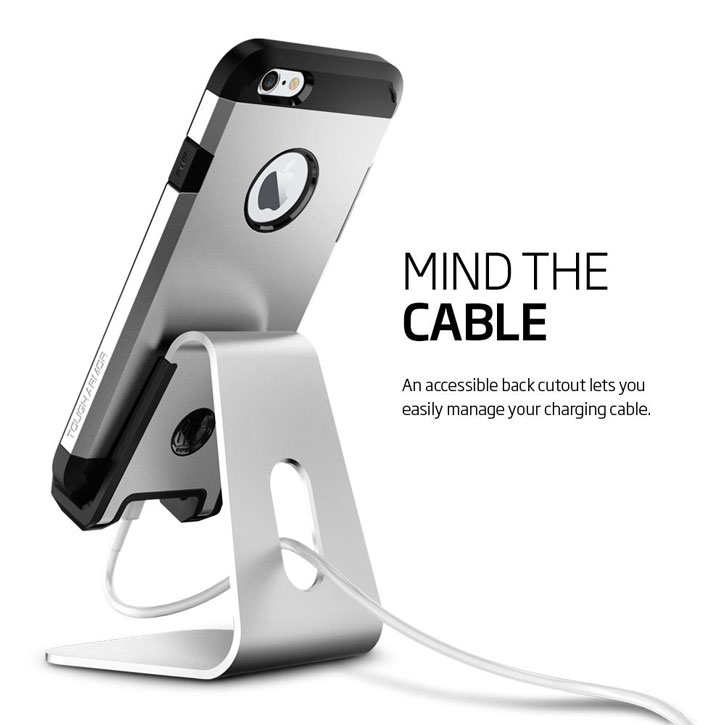 Cable cut-out for tidy cable management
With the conveniently placed cut-out, the Spigen Mobile Stand allows you to feed your own charging cable (one is not included) through the gap so you can keep your work area or table neat and tidy.