Most useful customer reviews
Denise Ridsdale
Surrey
Olixar Pocketsize selfie Stick
18 June 2017
Extremely easy to use, just plug in wire and works immediately
Extremely easy to use, just plug in wire and works immediately.
Lesley Bridle
Cottingham
Oil are pocketsize selfie stick with mirror
12 June 2017
Great, new to selfie sticks
Perfect just what l needed and easy to use. Thanks
Mark
London
Olixar Pockketsize Selfie Stick
11 June 2017
Fast Deliverey
Recevied my Olixar pocketsize selfie stick I have had lots of fun using it very happy with the quality of the product.
59 Reviews
|
Write a review
---
Additional information
Capture High quality selfies in comfort with the supremely portable Olixar Pocketsize Selfie Stick with Mirror. Easy to use and setup, never requires a recharge - the Olixar Pocketsize Selfie Stick is the perfect travel companion, ensuring you can capture those all important memories of you and your loved ones without having to rely on a stranger to take the shot.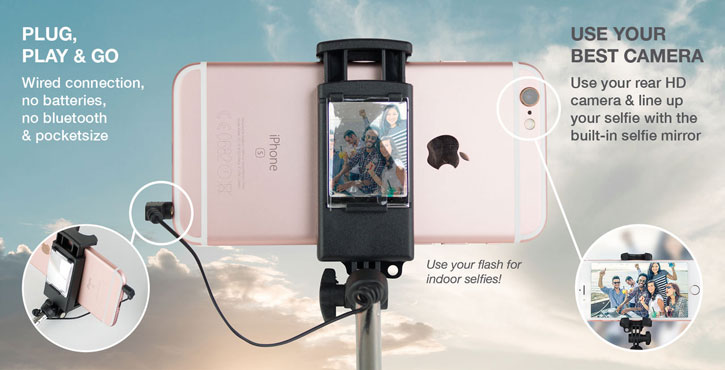 Capture the perfect selfie
Taking the perfect selfie isn't as easy as it would seem. Our arms are only so long, which means you can miss out on not just the surroundings, but even the people you wish to feature.
Thankfully, we now have a method of capturing the perfect selfie, ensuring 'everything' and more importantly 'everyone' is within the photo for all of you to enjoy that special once in a lifetime moment.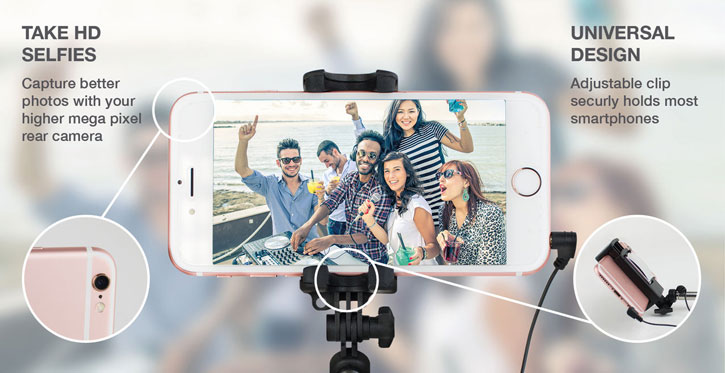 No need to strain when stretching your arms, simply attach your phone to the secure holder and expand the Selfie Pole with Mirror. With your shot positioned exactly how you want it, you are ready to take an image.
Built-in mirror to use your phone's higher quality rear facing camera
With traditional selfie sticks, you are limited to using just the front facing camera on your phone as this is the only way you can preview the shot you are taking. This means you can't take advantage of the much more capable rear facing camera that on modern smartphones features HD capture capabilities for truly stunning photography.
The Olixar Selfie Pole features a built-in mirror, so you can line up your shot with this super reflective surface instead of your phone's screen. Capture your perfect photo with the much more impressive rear facing camera - providing high definition photography.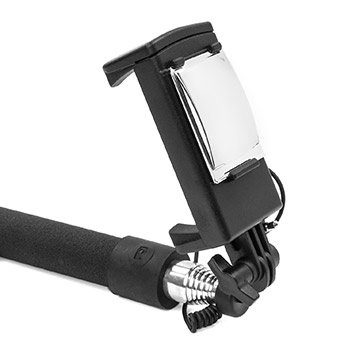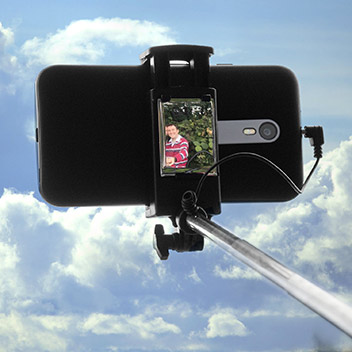 Easy to use, no Bluetooth pairing required
Using your phone's headphone port, the Olixar Pocketsize Selfie Stick doesn't require Bluetooth technology or pairing to your smartphone - simply plug into your phone and take a photo within seconds.
No need to recharge!
The Olixar Pocketsize Selfie Stick has no battery due to the way it connects to your smartphone. This means your Olixar Pocketsize Selfie Stick never runs out of charge and is always ready to capture those all important selfie moments.
Retractable mini pole for portability, small enough to fit in a handbag
You can't carry a pole around with you all day... or can you! Well actually, yes you can thanks to the Selfie Pole's retractable design. Extend or retract the pole, making it the perfect accessory to carry around with you for when the perfect selfie opportunity arises.
In fact, the Olixar Pocketsize Selfie Stick is so portable - you can even place it within a handbag!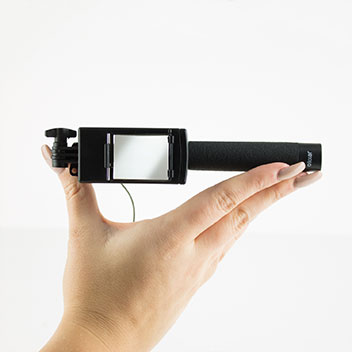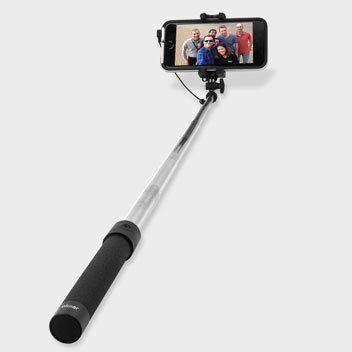 Built-in button to capture an image in comfort
With your phone positioned further away, you need a straightforward method of telling the software to take the image without having to stretch needlessly into the distance to reach your device's screen. The Olixar Pocketsize Selfie Stick features a built-in button that with one press instructs your phone to take an image.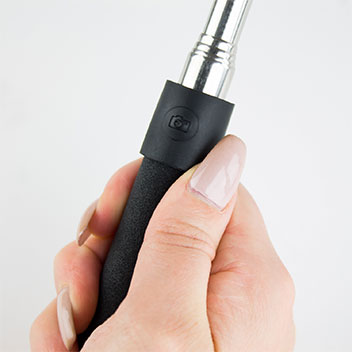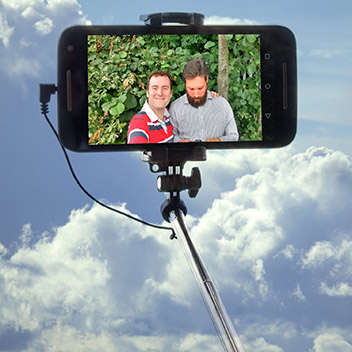 You can also use the button to capture video as well!
The Selfie Pole extends to 480mm for capturing photos and retracts to 170mm for super easy portability.
Safety locks and shock absorbing material
The Selfie Pole features safety locks, enabling you to position the extendable pole and the smartphone perfectly and securely.
Compatible with smartphones between 55mm - 90mm in width.
The shock absorbing material cushions your phone, to help protect your device from any sudden movements.
Case compatible
You can also leave the case on your phone as you mount your device on the Selfie Pole. Compatible with all but the most chunky of cases, the Selfie Pole is ready for action whether your case is on or not.
Compatible with Android or iOS devices
Compatible with both Android and Apple devices, the Selfie Pole is the ideal companion for your selfie photography needs.
Note: Android users may need to configure their default camera app to use the 'Volume Up' feature to trigger a photo for the Selfie Pole to operate correctly. Compatible with Android 3.0, iOS 4.0 or later
Specifications
Weight: 102 grams
Max length of extension: 480mm
Compatible with smartphones between 55mm - 90mm in width