Additional information

Increase the range of your wireless network
The TP Link TL-WA850RE extends the reach of existing wireless networks by receiving the wireless signal, amplifying it and sending it on. All that is required is a spare mains power socket and you are ready to extend your network. The twin antenna provide enormous extensive coverage.
300Mbps for high speed data and gaming
With this extender, speeds of up to 300Mbps wireless data rates are possible, which is ideal for video streaming, online gaming and internet calling and much more besides.
Helps to cover signal 'dead zones'
The wireless signals of the TL-WA850RE can cover certain dead zones - including partition walls or partition floors of bedrooms and lofts or gardens - effectively extending the wireless signal coverage and easily implementing various wireless applications.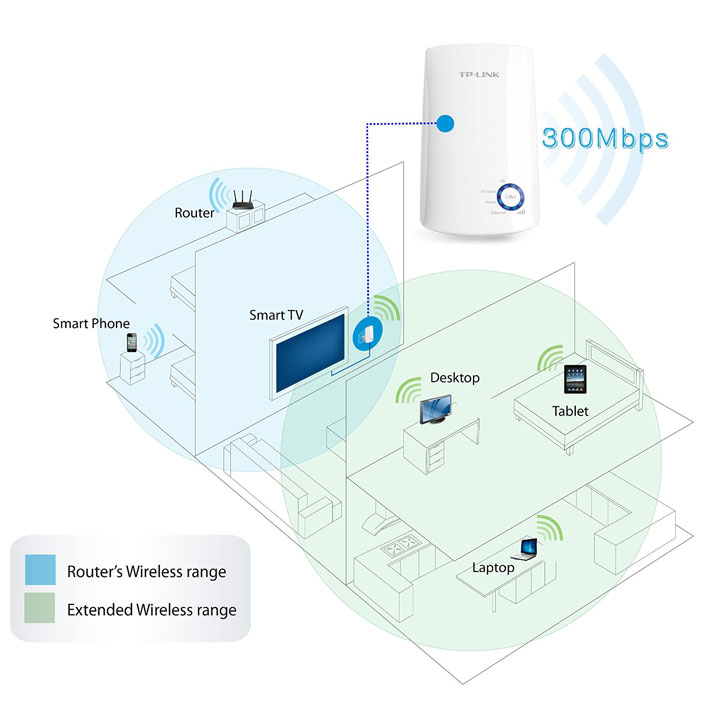 Ideal for home use
The number of consumer electronic products which utilise WiFi connectivity continues to grow, creating a natural demand for wider WiFi coverage around the home including using games consoles, televisions, printers, smartphones and many more besides.
Domestic WiFi routers tend to be positioned in a location that is not the most effective for distributing a signal throughout the entire building. The TL-WA850RE can be sited at any point in the home to provide a strong signal and minimise black spots.
Great low cost solution for business use
Additionally, the TL-WA850RE provides an easy solution for business users to extend a WiFi network for employee or customer use at minimal cost; these can be used as a simple extension to an office network, help signal strength at restaurants, hotels, cafes and many other places of interest.
The TL-WA850RE avoids the need for expensive cabling or additional routers.