Additional information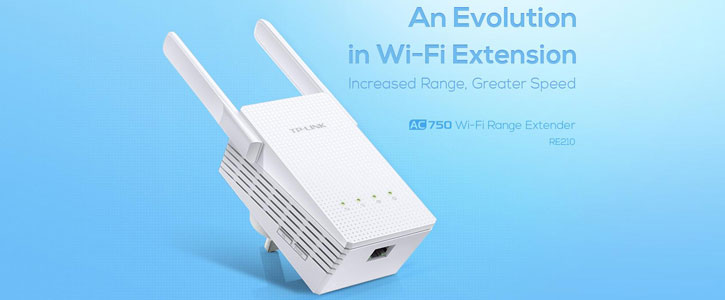 Increase the range of your wireless network
The TP-Link RE210 extends the reach of existing wireless networks by receiving the wireless signal, amplifying it and sending it on. All that is required is a spare mains power socket and you are ready to extend your network. The twin antennas provide enormous and extensive coverage throughout the home.
High performance external antennas
With two external antennas, the TP-Link is able to boost your Wi-Fi coverage and reliability, enabling your devices to stay connected even in previously hard to reach spots.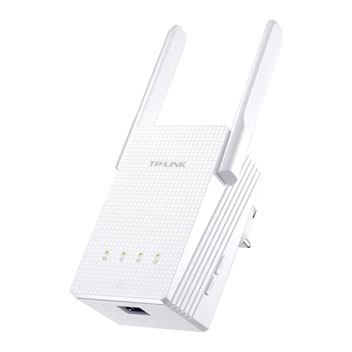 750Mbps for next-generation Wi-Fi with universal compatibility
Featuring the next-gen Wi-Fi standard, 802.11ac. The TP-Link RE210 Wi-Fi Extender lets your wireless network run on speeds of up to 750Mbps, including 433Mbps on its 5GHz channel and 300MBps on its 2.4GHz channel. The extender can even work with any standard Wi-Fi router or wireless access point.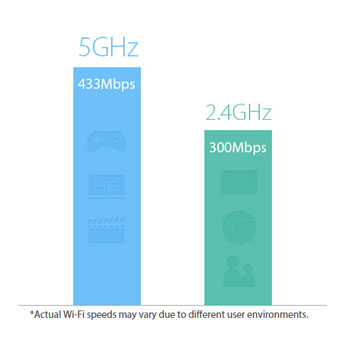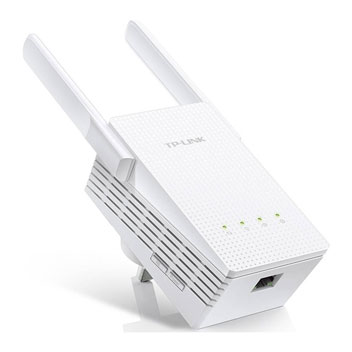 Helps to cover signal 'dead zones'
The wireless signals of the RE210 can cover certain dead zones - including partition walls or partition floors of bedrooms and lofts or gardens - effectively extending the wireless signal coverage and easily implementing various wireless applications.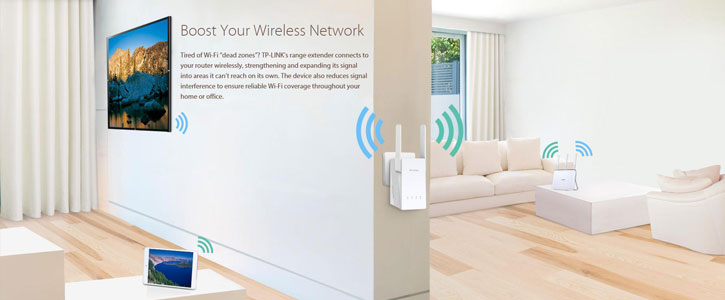 Gigabit wired speed
With a gigabit ethernet port, the TP-Link RE210 turns your extender into a wireless bridge, allowing you to connect a wired device like a gaming console or Blu-ray player to your Wi-Fi network quickly and easily.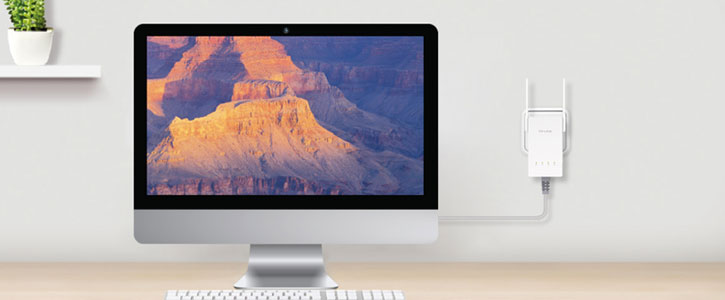 Ideal for home use
The number of consumer electronic products which utilise WiFi connectivity continues to grow, creating a natural demand for wider WiFi coverage around the home including using games consoles, televisions, printers, smartphones and many more besides.
Domestic WiFi routers tend to be positioned in a location that is not the most effective for distributing a signal throughout the entire building. The RE210 can be sited at any point in the home to provide a strong signal and minimise black spots.
High speed mode
The TP-Link RE210 features a unique high speed mode, which maximises performance by combining both available bandwidths to create a super-fast connection with one band sending all of the data and the second receiving it. This setting is perfect for bandwidth intensive tasks like streaming HD video and gaming online.
Great low cost solution for business use
Additionally, the RE210 provides an easy solution for business users to extend a WiFi network for employee or customer use at minimal cost; these can be used as a simple extension to an office network, help signal strength at restaurants, hotels, cafes and many other places of interest.
The RE210 avoids the need for expensive cabling or additional routers.
Easy to use design
The RE button on the side of the TP-Link makes using this Wi-Fi extender easier than ever, as once plugged in you simply need to press the RE button and the WPS button on your router at the same time to pair the two in seconds.