Spigen Samsung Galaxy S6 / S6 Edge Belt Clip for Spigen Cases
Product part number: SGP11532
Product reference: 53114
Keep your Samsung Galaxy S6 or S6 Edge safe and easily accessible with the Spigen Belt Clip Holster. Compatible with some of the most popular Spigen cases, including the Tough/Slim Armor series and the Neo Hybrid range, this holster is super convenient.
"Exactly what i wanted"
"Handy but not easy to use"
Most useful customer reviews
Simon pettifar
Unknown
Samsung Falaxy S6 Edge
5 December 2015
Exactly what i wanted
I have got used to wearing my mobile on my belt for 20 years, i wanted something to hold my new S6 Edge and this is perfect. Combined with the case, it is still light, strong, holds the phone snuggly, but easy to remove to use the camera with the "push" button. Strong clip that grips. Couldn't have designed it better myself. Quick side note - The telephone help I received was some of the best I have come across. Helpful, knowledgable, cheerful and polite and did everything she said she would after the phone call.
Ken
Belfast
Samsung S6 edge
1 January 2016
Handy but not easy to use
My previous phone was an S4 and I had a slim armor case that covered the entire phone. I bought this to compliment the slim armor case for this phone but which only covered the rear case. It's not been the success I'd hoped for. For a start the S6 is just too big to be carried on the belt, and it's fiddly to detach when the phone rings and even more fiddly to put back when finished. I can't help feeling that its not that secure when in place though I'm sure it is but Im going to buy a screen protector instead now and just carry it in my pocket. Shame really... I simply loved the S4 case and really wanted the same for my S6 edge. Oh well..... cant have everything...
5 Reviews
|
Write a review
---
Additional information
Durable construction protects your Samsung Galaxy S6 / S6 Edge from damage
Manufactured from injection moulded plastic, the Spigen Belt Clip Case for the S6 and the S6 Edge is designed to include Spigen's spider-web construction with premium high-impact materials, that results in an optimal strength-to-weight ratio. This means that the mount can withstand the shocks and bumps, whilst providing a firm and stable platform for your S6 / S6 Edge to be held securely.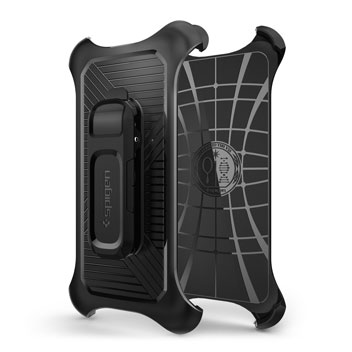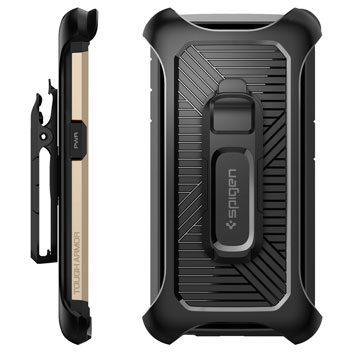 Streamlined design and easy mounting
The sleek and smooth design of the Spigen Belt Clip not only looks great, it also provides quick and easy mounting on clothing, as well as eliminating unwanted clothing snags that often occur with other belt clips commonly found on the market today.
Compatible with popular Spigen cases
The Spigen Belt Clip Holster can be used with the Tough Armor, Slim Armor and Neo Hybrid series of cases, in order to provide ultimate protection of your phone, in or out of the Belt Clip Case. This means your Samsung Galaxy S6 / S6 Edge will be suitable for use in any situation.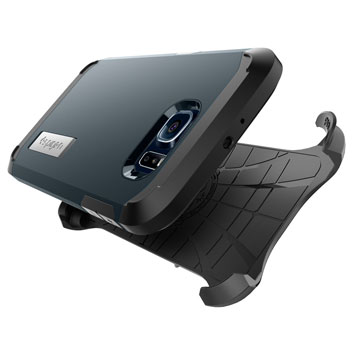 Easily adjustable for enhanced usability
Allowing you to conveniently place and remove your Samsung Galaxy S6 / S6 Edge with one hand, The Spigen Belt Clip Holster features a quick-release locking mechanism, giving you the ability to focus on the day ahead. All buttons and features are fully accessible in the Belt Clip, including the speaker, microphone, volume buttons and the headphone port. Additionally, the Belt Clip Case is rear camera compatible allowing it to be unclipped and used to capture those special moments as they happen.
Doubles up as a handy kickstand
With a rotating belt clip, the Spigen Holster can be adjusted to provide a handy viewing stand, ideal for watching media on the go or at home.