Avantree Clipper Bluetooth Stereo Headset - Black
Product part number: BTHS-AS7-Q-BLK
Product reference: 51748
Featuring high fidelity wireless sound for music and calls, the Clipper Stereo Bluetooth Headset by Avantree attaches to clothing via a stylish compact clip, and provides up to 6 hours of battery life.
"Great Audio, excellent Standby time."
"No longer a danger to my life!"
Most useful customer reviews
Olly Boustead
Chichester
Samsung Galaxy S4 Note
23 November 2015
Great Audio, excellent Standby time.
This Bluetooth device, has great audio quality with callers even commenting that they thought I was in the office on a regular phone. The standby time is excellent, I work 11 hour shifts and it easily lasts for 2 shifts or more, I use the phone thought the shift and have not managed to run the battery down yet! I also work outdoors and the clipper has coped well even in bad weather. The connection is great, if I leave the phone in the car I notice it reconnects within 5 metres of me returning to the car! The Clipper gives you a reassuring bleep in your ear when you are back in range of the phone, when you turn it on and off. Charging is easy though USB, same connection as the phone! The audio quality in my ear is great, I have used this device with a separate earpiece to the headphones for work purposes, It looks smart, and having a larger phone like the S4 Note you don't look like a wally holding up a brick to your ear! Really impressed with this device, I did loose it, which was my fault because its so small, but I had no hesitations in buying another straight away as it is so very good.
James haslam
London
Galaxy Note 4
5 July 2015
No longer a danger to my life!
After years of nearly choking myself to death on the wires of my headphones I decided to purchase some Bluetooth headphones. I cannot say the relief that I now have when walking about I can safely do so without catching on door handles my bag or any other item that the wire from my headphones decide to touch on to. The sound quality of these headphones is great and I love them very much thank you
7 Reviews
|
Write a review
---
Additional information
Wireless Bluetooth headset for music and calls
Designed to allow streaming of music and calls, the Avantree Clipper is an innovative Bluetooth headset which is designed to allow you to seamlessly switch between hands-free voice calls and wireless music enjoyment. A small, lightweight and discreet Bluetooth headset at only 15g, the Clipper is one of the most stylish and convenient Bluetooth headsets available.
A compact design doesn't mean you have to compromise on quality either, as the Avantree Clipper features high fidelity music - reproducing your musical selection of any genre for your listening pleasure.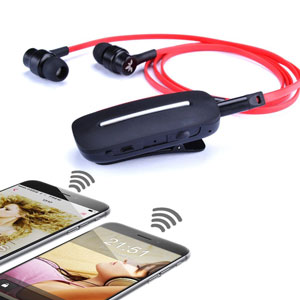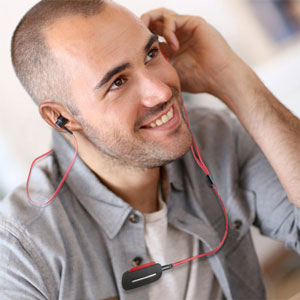 Stylish clip-on design
The Avantree Clipper features a stylish clip-on design, that uses a clip to attach the headset to your clothes. This provides you with an easy to reach location to control the device, including adjusting the volume and accepting calls.

Micro USB port allows for charging on the go
The headset also comes with a Micro USB port, which allows you to charge the headset from any USB supported devices such as a PC, laptop, USB mains adapter or in-car charger. This ensures that your headset is fully charged whether you are at home, in the office or travelling.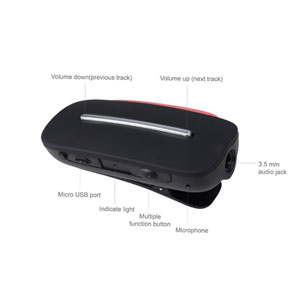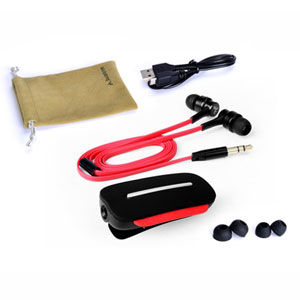 Comfortable and secure
Featuring uniquely designed earbuds, the Avantree Clipper Bluetooth Headset can be adjusted to fit comfortable and securely. Three pairs of silicon earbuds are included with the accessory and can be replaced if needed.
Never miss a call - auto switching between music and calls
Designed to allow greater freedom when listening to your music, the Clipper is a wireless Bluetooth enabled headset, which connects with most mobile phones, tablets, and computers. This means you're free to listen to your tunes and handle phone calls at home or on the go, without worrying about being tethered by a physical wire to any device. The headset will auto-switch between incoming calls and music (pausing your track when a call is received), so you will never have to miss a call or song again.
Technical Specifications
Bluetooth version: V4.0
Support profiles: Headset, Hands-free, A2DP, AVRCP
Operation range: Class 2; 10 metres
Battery: 3.7V/85mAH rechargeable lithium battery
Talktime: up to 6hrs
Music time: up to 6hrs
Standby time: 240 hrs
Product Weight:15g
Product main body size: (H)50.5mm*(W)26mm*(D)18mm