Spigen Slim Armor Samsung Galaxy S6 Case - Gunmetal
Product part number: SGP11330
Product reference: 51636
The Slim Armour case in gunmetal for the Samsung Galaxy S6 has shock absorbing technology specifically incorporated to protect the device from any angle.
"This is the best case I ever purchased"
"Saviour"
"Slim Armour heavyweight features"
Most useful customer reviews
Willie Crighton
Edinburgh
Samsung galaxy edge 6+
20 October 2016
This is the best case I ever purchased
Hi after 2 back screen cracked this is the best case I ever purchased fit's well & strong plus I like the idea of the stand would recommend this cover 100 & 50%
Brian Nicholson
Penicuik
Galaxy s6
30 August 2016
Saviour
Much needed as back screen got cracked and did not want to get any worse also at recent music festival left outside tent upside down and it kept it protected from the rain
Chris Minshull
Manchester
Samsung Galaxy s6
5 July 2015
Slim Armour heavyweight features
Spigen Slim Armour have simply done it right here with a substantial protective case that has the most advantageous feature of a lean to stand allowing the user to watch youtube videos etc hands free. Simply what EVERY CASE SHOULD HAVE.
9 Reviews
|
Write a review
---
Additional information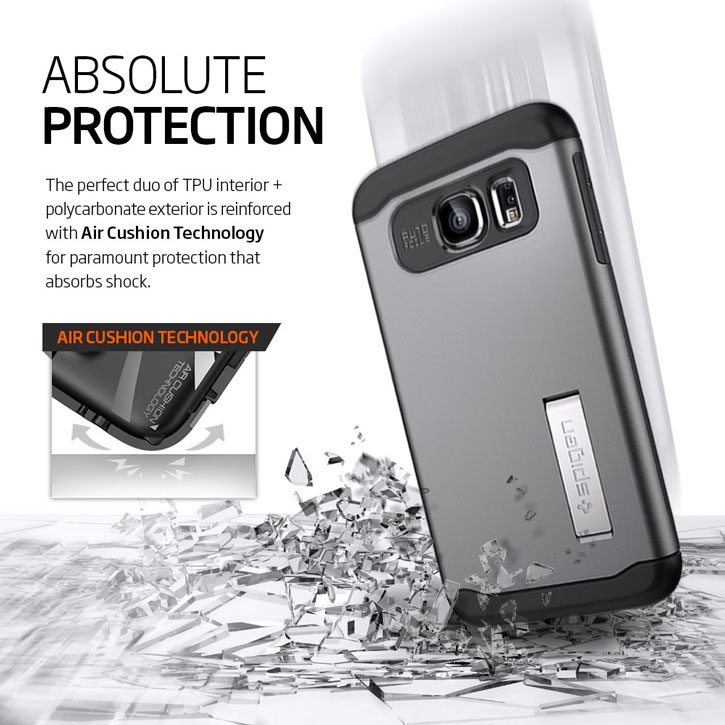 Incredible slim, protective design
The Slim Armour case for the Samsung Galaxy S6 has been specifically designed and crafted to offer amazing protection despite being incredibly slim and beautiful in appearance. The TPU case features improved shock absorption on the top, bottom and corners to effectively protect the Galaxy against external impact.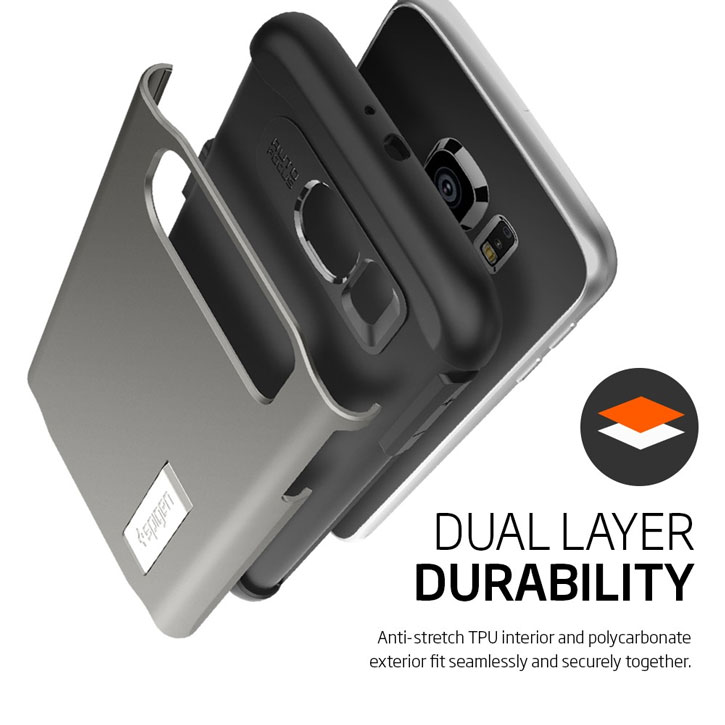 Double Layered case technology
The clever part is that the Slim Armour case is made up of both a TPU unibody and a hard polycarbonate shell that can detach from the TPU body. This gives a hybrid combination that excels at offering protection and helps keep the size at a minimum. It also means that you can change the coloured hard shell when you fancy a change of style.
Two-toned colours
All the cases come with a two-toned colour combination that will set your Galaxy S6 aside from anyone else. The colours are finished at an incredibly high standard with a UV coating that prevents the colour from fading - giving a product that will look and stay great for a long time.
Access to ports and features
The case optimises functionality to all of the devices ports and features. The TPU case features moulded TPU buttons while the headphone port, charging port and camera are left open for easy use.