Most useful customer reviews
13 February 2015
A great bluetooth headset + car charger
A great bluetooth headset - small, discreet & very effective. Long battery life and I can use the car charger for my galaxy s5 so a very good deal
Newton Lavieri
Sao Paulo - Brasil
BlackBerry Passport
27 January 2017
Low battery life
no battery level indicator
Bill Durrant
Midlands
BB Z10
24 February 2015
Neat little headset
Neat and tidy headset. Works well with my Blackberry and works Nokia. Has not run out of power even after two weeks daily use. does lack some voice notification, like the Plantronics. You get bleeps instead, but hey hoe.
8 Reviews
|
Write a review
---
Additional information

Great performing Bluetooth headset
The new Blackberry HS250 Bluetooth Headset is the perfect way to get the most out of your busy schedule and of your calls on the go. This intuitively designed HS250 Bluetooth headset is made to be paired easily with your mobile phone and is practical to operate.
Universal Compatibility
No matter which bluetooth capable phone you happen to have, this headset is sure to be compatible with it. That includes iPhones, Samsung Galaxies, Sony Xperias, HTCs, Nokia/Microsoft Lumias, LGs etc. You name it, this product is ideal for it. Not only that, the included car charger will fit any vehicle and charge not only your BlackBerry HS250 but your phone too. Any USB cable is compatible. The included Micro USB cable is obviously perfect to charge this headset but it will also work with your Micro USB smartphone or power bank too.
Lightweight and compact
The stylish, lightweight and discrete design aids comfort and looks fantastic. Weighing only 8 grams and fitting securely into your ear without compromising on audio.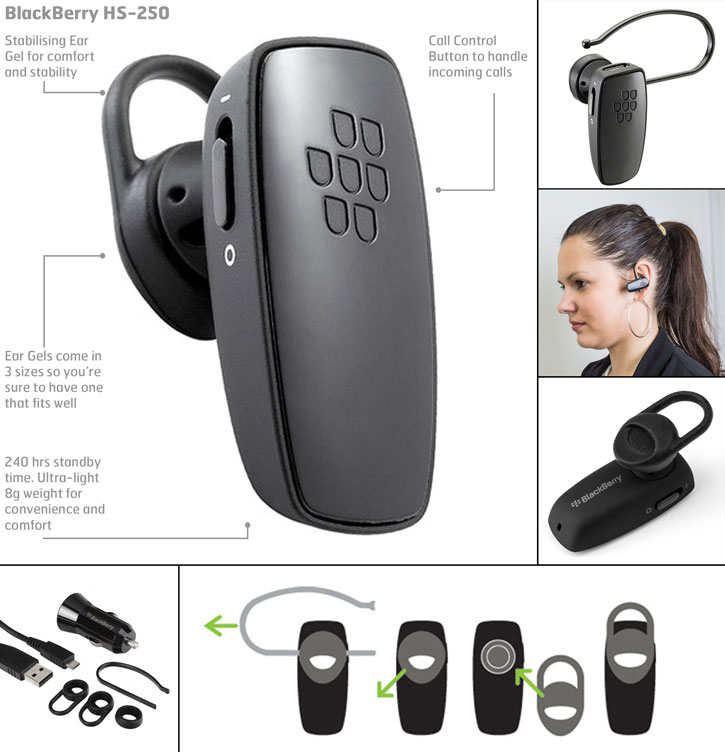 Multipoint technology
Pair 2 devices to the Official BlackBerry Bluetooth Headset at the same time, managing calls from each phone thanks to the inclusion of multipoint technology.
If you own a business and a personal phone, you no longer have to worry about missing calls on either while you're driving.
240 hours of standby time and 4.3 hours of talktime
The BlackBerry HS250 improves on the original version with an amazing 240 hours of standby. If that was not enough, the HS250 now also has the capability of 4.3 hours talktime - so you'll be able to go for longer without the need to re-charge.
Audio and LED indicators provide status updates
Voice prompts and LED indicators keep you up-to-date, so you'll know when your battery's low on charge, when you're on mute and much more.
Makes driving safe
Matching safety while driving and calls is of utmost importance at BlackBerry. The HS250 Bluetooth Headset provides true hands-free convenience and exceptional ease-of-use, so that you can drive safely, keeping in touch and making your calls without wires and with both hands on the wheel.
Make the most of your calls
Whether at home or on the go, get the most out of your calls and your time with the BlackBerry HS250. Optimised sound quality on all your calls, great value for money and a practical and intuitive headset is ensured. The HS250 Headset delivers solid performance and an appealing design at a great price – all in one package.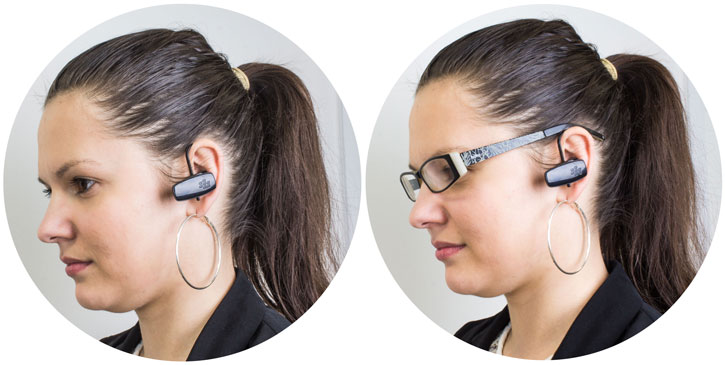 Earhook and Earbud design
With its new, improved look - the Official BlackBerry Headset gives you enhanced comfort by allowing you to choose whether to use it with or without an ear hook. With its attractive and user-friendly design, the HS250 makes wireless calling easy.
Specifications
Talk time: up to 4.3 hours / standby time up to 240 hours
Weight: 8 grams
Operating range: up to 10 meters (appr . 33 feet)
Bluetooth®: version 2 .1 + eSCO & EDR
Charging: Micro USB