Arkon Mini Table Tablet Stand with Quick Release Holder
Product part number: TAB-STAND2
Product reference: 50812
This ingenious stand is a great tablet accessory that can be used as a music stand, for video conferencing, watching media, staff training, mobile entertainment and in the kitchen.
"very good"
"I thought it was well thought out and having multi adjustment."
"Superstand"
Most useful customer reviews
sheila banbery
west midlands
Arkon tablet stand
30 January 2016
very good
I thought that the product purchased was what it stated to be very pleased with it, could have been about inch taller but does the job. very sturdy and good value for money.
sheila banbery
dudley west midlands
18 January 2016
I thought it was well thought out and having multi adjustment.
Well made and packaged well a d quick delivery
Elsa Gordon
Scotland
Arkon mini table tablet stand
10 January 2016
Superstand
This really is a super stand. It is sturdy and stable and stands at a perfect height for reading ebooks and news items. I recently upgraded my original iPad to an iPad Air and the stand which I had no longer fitted the new slimmer model. I was slightly put out because I thought it was just perfect. However the Arkon surpasses it, so it couldn't have been so perfect after all. Thank you so much.
10 Reviews
|
Write a review
---
Additional information
Small, lightweight tablet stand
This small, lightweight and adjustable stand is perfect for holding tablets wherever you are. It has adjustable arms and legs so you can ensure the perfect fit and angle for your device. This will support your tablet in both landscape and portrait so you can vary between activities. Because the stand folds away, it is extremely travel friendly and can be placed into any bag for easy travel convenience. Where you go and where your tablet goes, so this stand will go. This stand will hold any tablet, in or out of its case.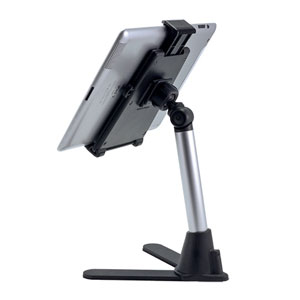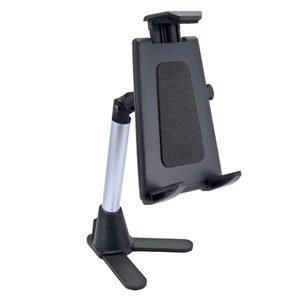 Brilliant for watching media and typing
The stand is perfect for watching movies, reading e-books, following recipes, surfing the web, conducting presentations, viewing photos or anything else you can think of. After a simple adjustment, you can alter the angle of how your tablet is held so it is more comfortable for typing. You can even consider it as a perfect easel for artwork. This makes it perfect for using at home, in the office or on public transport. It's a highly professional grade product that is affordable and great value for money.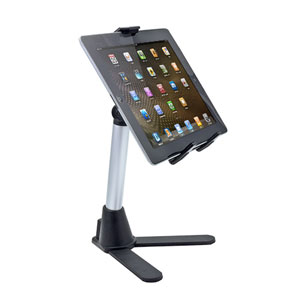 10 inch stand
This product has a 10 inch stand that keeps your tablet device raised above any surface you may be working on. This is ideal if you are using your tablet while cooking or painting to keep your tablet away from any potential liquid spillages.
Non-skid pads for superior stability
This stand features non-skid pads on the bottom of all contact points, which provides superior stability on any surface. This reduces the chances of the stand slipping and damaging your expensive device - even when the surface happens to be smooth and slippery.
Fully case compatible
You don't need to remove your tablet from its case to use this fantastically useful stand no matter how big or bulky it is. It will work just as well in its case, saving valuable time without you having to compromise on protection.