Most useful customer reviews
Edward Czernuszka
Berkshire
Olixar AquaFonik Bluetooth Shower Speaker
2 January 2017
The AquaFonik an item that should be in every bathroom.
Since purchasing this item I now wondered how on earth I ever managed without it. It saves taking your phone into the bathroom and it possibly falling into the sink or accidentally picking it up when you are in the shower. The AquaFonik allows you to listen to your favourite songs or any radio station. Simply connect the Bluetooth and leave your phone safely in another room without the worry of it getting damaged. I would strongly recommend this item if you want to keep your phone dry.
Gerard
London
iPad. And htc 1s
11 April 2014
Great just what I looking for
Great Sound,Great Size, Waterproof, Great Colour Green fits in the bathroom nicely. Means that Great sounds of talkSport. Thank you
21 February 2014
good for every day used
It's wicked little Bluetooth speaker I use it all the time anywhere and good for the money I paid it for
176 Reviews
|
Write a review
---
Additional information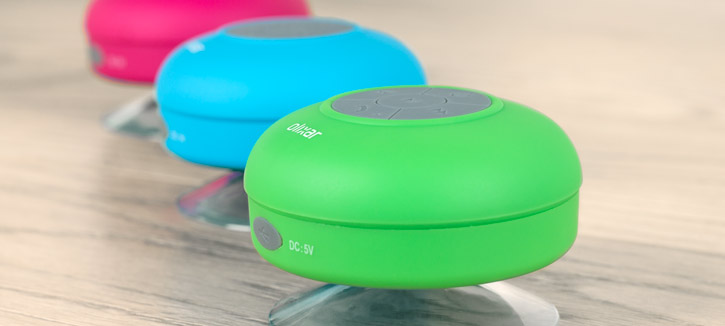 Enjoy a shower while listening to music wirelessly via Bluetooth
Usually a shower consists of listening to the rushing sound of steaming hot water, a daily routine we all slip into without much thought. Why not then ensure the whole process is far more entertaining with the Olixar AquaFonik Bluetooth Shower Speaker, a device that allows you to listen to your favourite music tracks while you shower or bathe.
Using Bluetooth technology to transmit your music, experience your own collection of music or any music subscription services you are signed up to via your smartphone - without any fuss or wires.
Compatible with any Bluetooth enabled phone.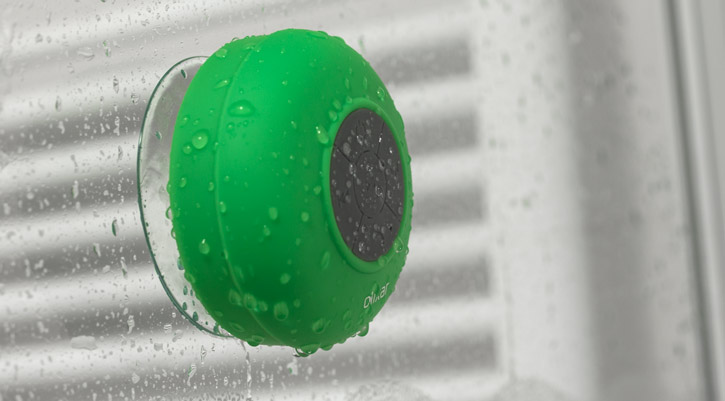 Suction cup for attaching to your shower tiles
Simply attach the Olixar AquaFonik Bluetooth Shower Speaker using the incorporated suction cup, allowing you to easily attach and move the device whenever you wish.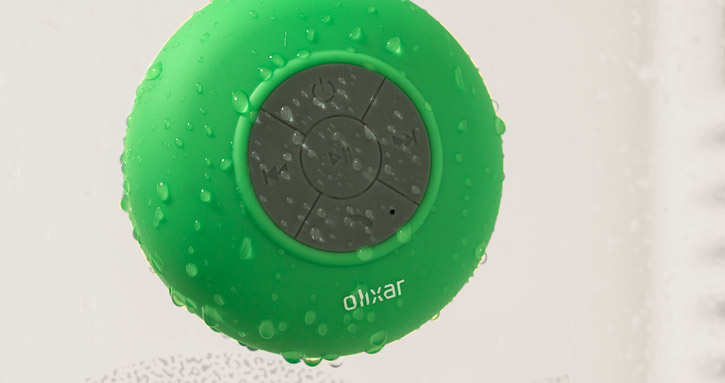 Not just for showers, also ideal for kitchens and placing on desks
You can also use the Olixar Aquafonik Bluetooth speaker in other locations around your home or workplace. Ideal for use in the kitchen, especially when you are cooking or how about on your desk to take calls hands-free while you continue to work. The Olixar Aquafonik is one versatile speaker!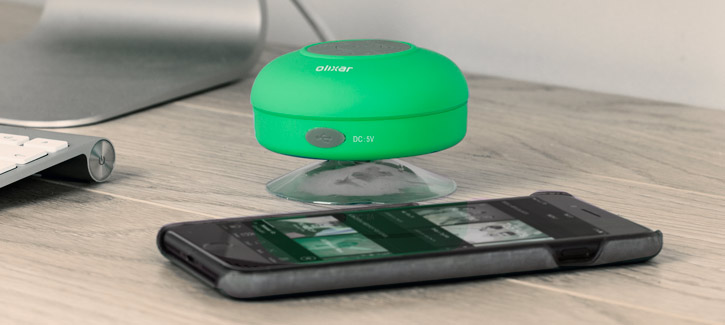 Incorporated playback controls
Featuring a soft rubber finish to ensure a comfortable feeling when operating the playback controls.
With buttons to answer, hang-up and re-dial phone calls - volume up and down as well as next and previous track options.
Note: The volume can be adjusted by holding down either the previous track or next track buttons to either lower or raise the volume of the audio / music.
LED lights are also incorporated to offer information on Bluetooth pairing.
Make and receive phone calls with the built-in microphone
You may believe that taking a phone call in the shower is the last thing you would wish to do, however how many times have we all been caught out! You prepare to step into the shower, all is quiet just the soothing sound of rushing water - you position yourself under the showerhead and just at that moment when the first drop of water touches your hair... The phone rings!
Never be caught out again with the Olixar AquaFonik Bluetooth Shower Speaker, that allows you to make and receive calls all while in the shower with its built-in highly sensitive microphone.
Using a compatible iOS device, you can also trigger Siri through the speaker and issue phone commands.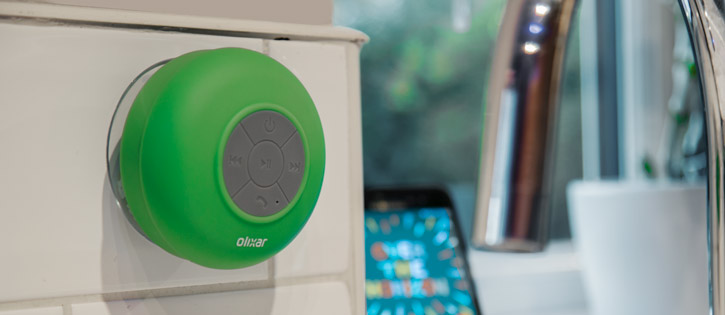 6 hours music playback
With an impressive 6 hours of music playback time, you can be assured your musical showering experience is uninterrupted for many weeks to come.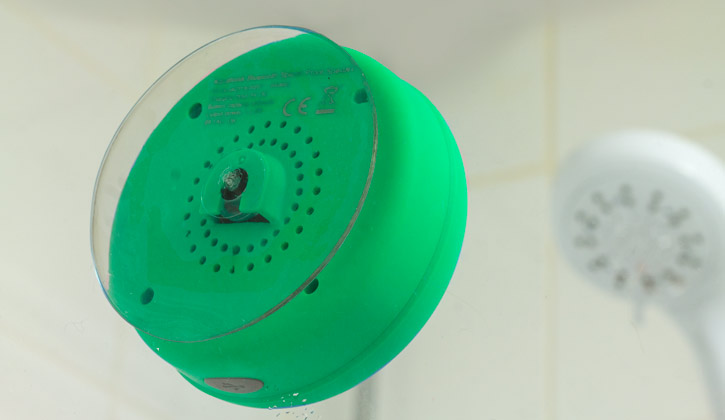 Technical Specifications
Sound power output: 3W
Playback time: up to 6 hours
Power supply: Rechargeable via USB Cable (included)