Genuine Samsung Galaxy Note 2 Flip Cover - Blue - EFC-1J9FBEGSTD
Product part number: EFC-1J9FBEGSTD
Product reference: 36374
Protect your Samsung Galaxy Note 2's screen from harm without impacting it's super slim profile with the official light blue flip cover from Samsung.
"an excellent cool colour for a great flip cover"
"Absolutely What I'd Hoped For"
"Just what I needed "
Most useful customer reviews
Sasha Cox
Bedfordfordshire
Samsung galaxy note2
6 October 2015
an excellent cool colour for a great flip cover
The product sold itself to me, good presentation. Service was 2nd to none *****
Fran Coath
Chippenham
Samsung Galaxy Note2
3 October 2015
Absolutely What I'd Hoped For
Hurrah for MobileFun! I had to buy a new cover for my phone and looked at lots of websites. Boring, boring. Then on MobileFun I found an exciting, flip cover in blue.Perfect! Fingers crossed it would look as good in real life. It did. Not only that but it also clipped onto my phone and fits perfectly. Also, it is in pristine condition. A real product of quality. As you've probably guessed by now - I am delighted that I found the MobileFun site!
Parminder sundal
Wolverhampton
Samsung galaxy note 2
23 May 2013
Just what I needed
Just what I needed
89 Reviews
|
Write a review
---
Additional information
Provides comprehensive protection for phone and screen
Protect the front of your Samsung Galaxy Note 2 from scratches, scrapes and front-on impacts with the official flip cover. This cover clips onto the back of your device thanks to a flexible rubber bumper without adding any bulk, and then folds over the front when not in use. This means that the most important part of the phone, the screen, is protected from harm without the added thickness and weight normally associated with flip cases.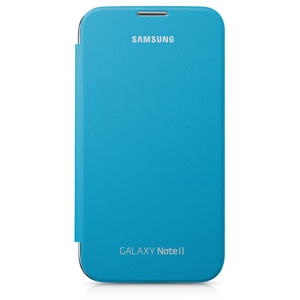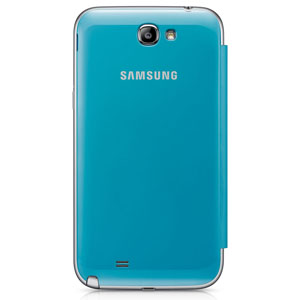 Includes integrated NFC chip for supported touch sharing
This genuine Samsung flip cover includes an integrated NFC chip which supports use of NFC touch sharing, just as the Note 2 does with its original battery cover.
Slimline and durable construction
Made from high quality synthetic materials, this flip cover will keep your Samsung Galaxy Note 2's screen looking good as new. The cover is tough enough to withstand day-to-day punishment without blemishing, so both your phone and cover will stay looking sharp for longer.
Official Samsung accessory made for the Galaxy Note 2
This is an official Samsung product, so is made to the highest standards with the best quality materials. It is designed specifically for use with the Samsung Galaxy Note 2, so offers a perfect fit, and does not impede the use of any of the functions such as the power and volume buttons, headphone and charging ports, or front and rear cameras.