Nokia HH-23 Tripod Mount for Nokia 808 PureView
Product part number: HH-23
Product reference: 36163
Make sure you get a steady shot every time with your Nokia 808 PureView using the genuine Nokia HH-23 Tripod Mount.
"What Nokia's Camera Phones Deserve!"
"Good buy"
Most useful customer reviews
Robert
Oklahoma City
Nokia N8-00; Nokia 808 Pureview
21 June 2013
What Nokia's Camera Phones Deserve!
The HH-23 tripod mount is exactly what is needed. I am a special education teacher and part of assessing students requires video of the student "in action". This mount allows me to shoot a professional appearing video while interacting with my student. The mount adjusts to various widths of phones. Even the venerable but small 6300 will be secure in this mount. I've used it successfully with the 6301 (North American version of 6300), the C7, the N8-00, the E75 and the 808 Pureview. (all Nokia devices) The build is okay on this. With larger phones I am less convinced of how secure the phone is in the mount but after six months of heavy use it acts and looks like new and I've not had a phone "pop out" of the mount. (knock wood) I've purchased two additional mounts for "one to use; one to lose" as my brother says, to ensure I am not without one when I need it.
20 May 2013
Good buy
We have been looking for this product all over! I even went to Dubai to look for it, but sadly it was not available anywhere. So it was awesome to find it on this site. The product is very helpful and fits more than one of our phones. Its compact, light and durable. Totally worth it!
3 Reviews
|
Write a review
---
Additional information
Transform your exisiting tripod into a mount for your 808 PureView
The Nokia HH-23 is a compact adjustable mount which lets you attach your phone to a standard tripod for shooting sharp, clear and shake free images and video.
Easy to install and provides a secure and stable support for your phone
The HH-23 is incredibly easy to install and operate with an 808 PureView. Simply screw the tripod to the HH-23 and open the spring-loaded adjustable jaws of the tripod mount before securing your phone within.
The rubbersied padding of the jaws and the secure spring loaded mechanism ensure that your phone is securely held within the mount and can be used for effectively for tilts, pans, and running shots.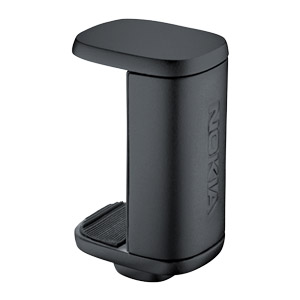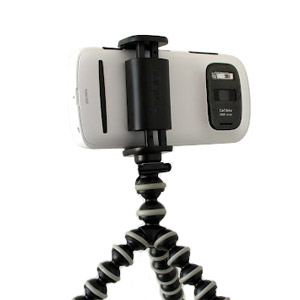 Official Nokia product gets the most from your Nokia 808 PureView
This is an official Nokia accessory which is indicative of the high product standards and manufacture quality set by Nokia. Designed for use with the Nokia 808 PureView, it will ensure that you always get the best shot from this fantastic phone.