Arkon Deluxe Universal Tablet Headrest Mount
Product part number: TAB3-RSHM
Product reference: 35803
This innovative holder will fit any 7" - 12" tablet allowing easy positioning of tablets in order to watch movies or play games while sitting comfortably in the back seat.
"Everything that it says on the tin"
"Does exactly what it says on the tin!!"
"Excellent solution for keeping kids entertained"
Most useful customer reviews
27 February 2017
Everything that it says on the tin
Everything that it says on the tin it does this is a great holder for the ipad pro and makes my long car journey a dream for the girls as it keeps them entertainted. It is well build and does not move when its fixed in place would deffo recommend this to others looking for the same.
Claire evans
Birmingham
Arkon deluxe universal tablet headrest mount.
4 November 2016
Does exactly what it says on the tin!!
Easy to put together and attach to the headrest, holds the new large ipad pro in a case no problem. Love the flexibility of positioning with the extendable arm and swivel feature you can get the best viewing position. Perfect.
Ian Slesser
Lincolnshire
Arkon Deluxe Universal Tablet Headrest Mount
21 June 2016
Excellent solution for keeping kids entertained
This mount looks doubtful hanging off the bars of one headrest suspending your valuable tablet over thin air, but I needn't have worried. The locking mehanism onto the headrest bars is very strong and hold the tablet perfectly horizontal right where you need it. My iPad Pro sits in the bracket solidly and keeps all three kids entertained on long journeys. Top top is to mount iron the drivers headrest rather than the passengers as indicated in the instructions. Mounting on the passenger side puts pressure on the bracket so it works its way loose, mounting the other way up on the drivers side just makes the mount sit more securely as it pushes the clamps together. Final tip, the iPad is held firmly for hours if the bracketbisnlevel or tilted slightly backwards, yolt the screen forward the vehicle movement and gravity mean the top will work its way free - but hey, that's gravity for you - sat level is perfect even for small children, so there is really no need to tilt forward so shouldn't be an issue.
208 Reviews
|
Write a review
---
Additional information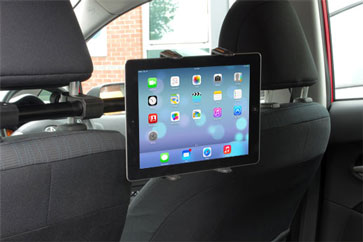 Compatible with Tablets with or without cases between 7 and 12 inches
Featuring adjustable jaws, the Arkon allows you to safely and securely position almost any tablet within your car. The Arkon's adjustable jaws allow you to leave your tablet in its case or cover, giving you peace of mind that your tablet is safe and secure at all times. Perfect for keeping the kids quiet during long journeys, the Arkon Deluxe Universal Tablet Headrest Mount is compatible for use with all iPad versions, all Galaxy Tabs, HTC Flyer, Eeepad Transformer, Blackberry Playbook, Google Nexus 7 and many more.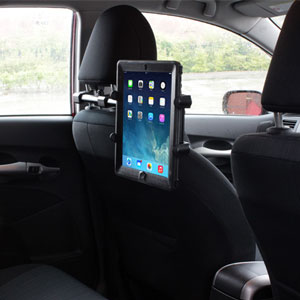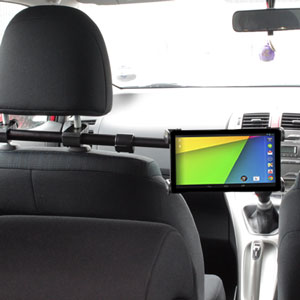 Ball joint connection allows 360º rotation for perfect positioning
The Arkon Deluxe Universal Tablet Headrest Mount can switch between landscape and portrait modes with ease. The Arkon features a unique 360º adjustable ball joint which allows you to position your tablet in a comfortable position for those sat in the backseat. This is perfect if you want to position your tablet for smaller children or if angling your tablet for just one viewer.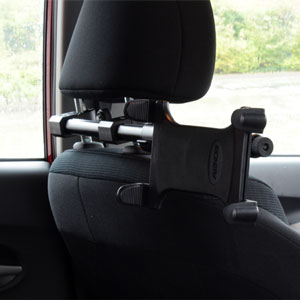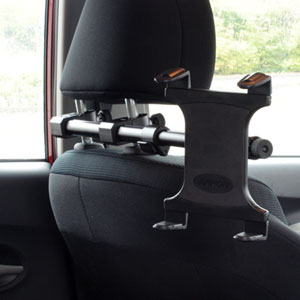 Headrest mount is highly adjustable and compatible with nearly all 2-post style headrests
Quick and easy to install, the Arkon Deluxe Universal Tablet Headrest Mount can be easily adjusted to the width of virtually any 2-post headrest and securely tightened. Additionally, the holder can be extended to be positioned centrally between the front car seats in order to provide a central viewing screen for backseat viewers.