Arkon Mobile Grip MG114 Deluxe Universal Smartphone In Car Mount
Product part number: MG114
Product reference: 35799
One of the most universally compatible car holders on the market, Arkon's mobile grip deluxe provides a strong, unobtrusive grip for almost all phones with or without cases.
"Good quality"
"Excellent - Grips brilliantly to the Wind Screen"
"Great!"
Most useful customer reviews
Kerry Bampton
Sleaford
Nexus 6p
22 May 2017
Good quality
Good quality and easy to use .Tight fit for the 6p in a protective case
San
Birmingham
Arkon Mobile Grip MG114 Deluxe Universal Smartphone In Car Mount
1 August 2015
Excellent - Grips brilliantly to the Wind Screen
I used to have an omni holder which was great. But the ball joint snapped after a 2 years unfortunately. In comparison it was harder to get omni holder in the right spot to suck it on to the wind screen (some places had not suction at all) This Arkon grip however fits anywhere and really grips to the glass. I find the spring loaded side grip to put the phone into place really easy to use and it holds the phone tightly. My case is quite slim (wallet style) so it's easy to put my iPhone 5 into it and overall it doesn't take up too much room / visibility. It's very easy to move to any angle too and spin from horizontal to vertical and it stays in place. My last one had to go through 'click' settings and sometimes would flop round out of position with the weight of the phone. But this one just moves to wherever you position it. I'm super pleased with it and bought a second one for the van.
Anonymous
Unknown
iPhone 5
28 June 2014
Great!
This is a great product - it holds my phone snugly and since it's mounted on a ball joint, it can pivot between vertical and horizontal without having to take the phone out of the cradle. The lever lock for the window attachment works very well and can be fitted easily.
19 Reviews
|
Write a review
---
Additional information
Universally compatible with most smartphones and cases
Designed to accomodate most newly released smartphones, the MG114 features a sprung grip fixing which is compatible with all of the latest and most popular smartphones: iPhone 4, iPhone 4S, Samsung Galaxy S2 and S3, HTC One X, Sony Xperia S.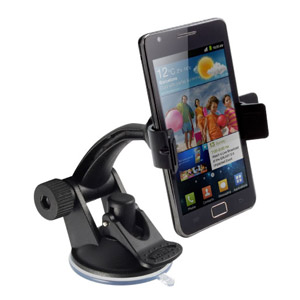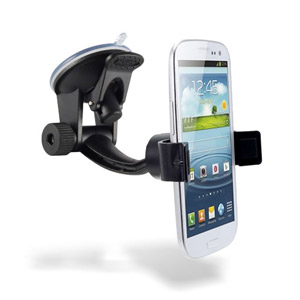 Holds your phone securely for unobstructed views
The MG114 Mobile Grip Deluxe Mini is styled with an ultra low profile and full adjustability of the holder's arm. This prevents the MG114 from obstructing the view of your phone's camera and also keeps the holder and handset from getting in the way of your road view.
Furthermore, the adjustable arm is secure enough to hold your phone without fear of it coming loose or falling out over uneven surfaces.
Allows 360° rotation for adjustment when using GPS navigation and hands free calling
Fully adjustable, the MG114 can be positioned at any angle in order to comfortably use your smartphone for GPS navigation and hands free calling.
Can be affixed to either the windscreen or dashboard
The Arkon Mobile Grip features a unique suction mount which will affix securely to windscreens and a 3M adhesive Dashboard Mounting Disc included which allows the holder to be affixed to car dashboards.