Arkon Mega Grip SM410 Universal Windscreen / Vent and Dash Mount Kit
Product part number: SM410
Product reference: 35797
One of the most versatile car holder kits on the market, Arkon's mega grip deluxe provides a strong grip for almost all phones on either the windscreen, vents or dashboard.
"Great item"
"Arkon Mount"
"Good but not brilliant"
Most useful customer reviews
Tracy wilkinson
Isle of man
Samsung s5 mini
4 November 2015
Great item
Easy to assemble and fix in the car very sturdy instructions easy to understand would recommend this item
Shane
Crowborough
iPhone 4S
9 July 2013
Arkon Mount
Unbelievably quick service ordered on Weds afternoon and it came on Thurs, have ordered other items since and they have all been as quick. The mount itself is what I need, fits snugly in air vent and holds phone sturdy. Would recommend
Matt Day
Worcester
Samsung Galaxy S7
8 June 2017
Good but not brilliant
The bracket itself is solid and holds my phone+case very nice and secure. I use the windscreen suction which works exactly as it says on the tin. However I did try the sticky pad first as this would have given me less obstruction on my dashboard but even after leaving it to cure for 8 hours the pad came off after just 4 mins of having the phone in it. The air vent connection seems ok but I'm sure it's very dependent on what car you have. All in all a good piece of kit only let down by a sub par sticky pad. Great service by mobilefun as always. Thanks
17 Reviews
|
Write a review
---
Additional information
Universally compatible with most smartphones and cases
Designed to accommodate most newly released smartphones, the SM410 features a sprung grip fixing which is compatible with all of the latest and most popular smartphones: iPhone 4, iPhone 4S, Samsung Galaxy S2 and S3, HTC One X, Sony Xperia S.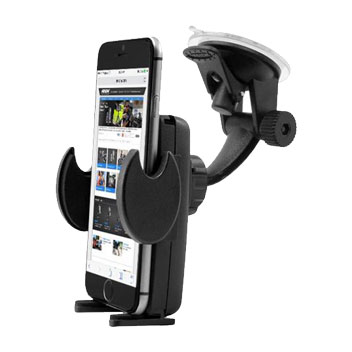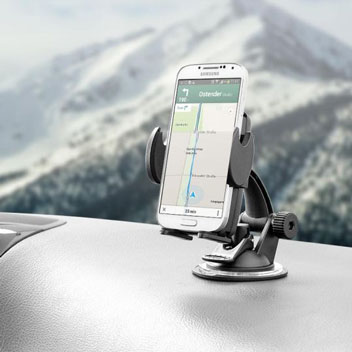 Holds your phone securely for unobstructed views
The SM410 mega grip holder includes Arkon's popular Travelmount (GN014-SBH) windscreen mount, styled with the same ultra low profile and full adjustability of the holder's arm. This prevents the SM410 from obstructing the view of your phone's camera when mounted to the windscreen and also keeps the holder and handset from getting in the way of your road view.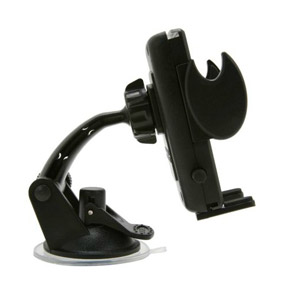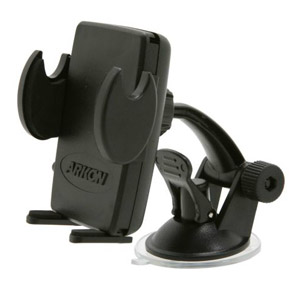 Mega Grip holder utilizes patented side grip technology
The adjustable sides of the grip holder securely squeeze inwards to adjust and hold your phone without fear of it coming loose or falling out over uneven surfaces. To remove the phone, a simple push-button release mechanism activates opening of Mega Grip arms.
Allows 360° rotation for adjustment when using GPS navigation and hands free calling
Fully adjustable, the windscreen mount can be positioned at any angle in order to comfortably use your smartphone for GPS navigation and hands free calling.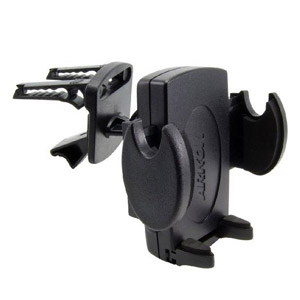 Can be affixed to either the windscreen or dashboard
The Arkon Mobile Grip features a unique suction mount which will affix securely to windscreens and a 3M adhesive Dashboard Mounting Disc included which allows the holder to be affixed to car dashboards. Additionally, an Air Vent Mount (SM429-SBH) is also included to securely attach the phone holder your car's vent.